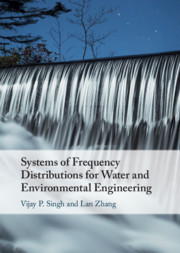 Coming soon

Expected online publication date:

August 2020

Print publication:

31 August 2020

A multitude of processes in hydrology and environmental engineering are either random or entail random components which are characterized by random variables. These variables are described by frequency distributions. This book provides an overview of different systems of frequency distributions, their properties, and applications to the fields of water resources and environmental engineering. A variety of systems are covered, including the Pearson system, Burr system, and systems commonly applied in economics, such as the D'Addario, Dagum, Stoppa, and Esteban systems. The latter chapters focus on the Singh system and the frequency distributions deduced from Bessel functions, maximum entropy theory, and the transformations of random variables. The final chapter introduces the genetic theory of frequency distributions. Using real-world data, this book provides a valuable reference for researchers, graduate students, and professionals interested in frequency analysis.
---
Journal: MRS Online Proceedings Library Archive / Volume 1323 / 2011
Published online by Cambridge University Press:

20 June 2011

, mrss11-1323-c03-25

Print publication:

2011

The fabrication of nanoporous aluminum oxide (Al2O3) membranes for large scale production of nanowires is performed at room temperature by a two-step anodization of commercially available aluminum foil tapes. During the anodization process, an oxide barrier layer is formed at the interface with aluminum. In the present work, the removal of the barrier is performed by (i) ramping down the voltage with a rate in the range of 0.5 V per 60s to 2 V per 60s and (ii) immersing the substrate in 50% phosphoric acid for up to 5 minutes. Depending on the removal conditions, several morphologies at the oxide-aluminum interface are observed by Scanning Electron Microscopy (SEM). Ramping down the voltage at less than 0.3 V per 15s combined by immersion in 50% phosphoric acid for less than 3 minutes is found to open the barrier layer of the nanopores. The pores have root-like structure with branches as small as few nanometers due to the slow voltage ramping. Several amorphous anodized Al2O3 (AAO) templates with pore diameter ranging from 30 to 40 nm and with length up to 25 μm were prepared by two-step anodization for the cathodic electrodeposition of photoactive nanowire semiconductors such as copper indium diselenide and cadmium sulfide.
---
Journal: Journal of Materials Research / Volume 25 / Issue 2 / February 2010
Published online by Cambridge University Press:

31 January 2011

, pp. 207-212

Print publication:

February 2010

Vertically aligned nanowire arrays of copper indium diselenide (CuInSe2 or CIS) of controllable diameter and length were fabricated by simultaneously electrodepositing Cu, In, and Se from an acid bath into the pores of anodized aluminum oxide (AAO) formed on top of an aluminum sheet. X-ray diffraction measurements revealed a preferential [112] orientation and the energy dispersive x-ray analysis (EDX) measurements indicated an overall composition close to stoichiometric CuInSe2. Ohmic contact to CIS was formed by depositing a 100 nm thick of gold layer on top, and thus a Schottky diode device of the Au/CIS nanowires/Al configuration was obtained. Analysis of the current–voltage characteristics of these devices yielded diode ideality factor and reverse saturate current density values slightly higher than those reported in the literature for bulk CIS/Al junctions. Capacitance–voltage measurements were performed on the diodes to get the estimates of space charge density and the junction potential.
---