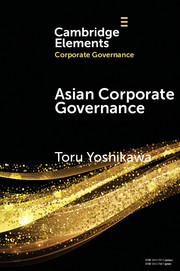 Trends and Challenges
Published online:

09 March 2018

Print publication:

22 March 2018

This Element aims to achieve three objectives. First, it explores some key institutional characteristics of several Asian economies that are relevant to corporate governance practices. Second, it reviews corporate governance codes or rules in those economies and examines levels of requirements in terms of formal rules. Third, this Element looks at recent trends related to corporate governance such as executive compensation and a proportion of independent directors on boards of large listed firms.
---
---
Journal: Infection Control & Hospital Epidemiology / Volume 28 / Issue 2 / February 2007
Published online by Cambridge University Press:

02 January 2015

, pp. 215-218

Print publication:

February 2007

A comparison of needlestick injury surveillance data from Japan and the United States revealed a higher proportion of foot injuries to Japanese healthcare workers (HCWs), compared with US HCWs. This study investigates the underlying factors that contribute to this difference and proposes evidence-based prevention strategies to address the risk, including the use of safety-engineered needle devices, point-of-use disposal containers for sharp instruments and devices, and closed-toe footwear.
---