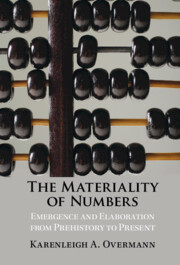 Emergence and Elaboration from Prehistory to Present

Coming soon

Expected online publication date:

July 2023

Print publication:

31 July 2023

This is a book about numbers – what they are as concepts and how and why they originate – as viewed through the material devices used to represent and manipulate them. Fingers, tallies, tokens, and written notations, invented in both ancestral and contemporary societies, explain what numbers are, why they are the way they are, and how we get them. Overmann is the first to explore how material devices contribute to numerical thinking, initially by helping us to visualize and manipulate the perceptual experience of quantity that we share with other species. She explores how and why numbers are conceptualized and then elaborated, as well as the central role that material objects play in both processes. Overmann's volume thus offers a view of numerical cognition that is based on an alternative set of assumptions about numbers, their material component, and the nature of the human mind and thinking.
---
Published online by Cambridge University Press:

20 September 2017

, pp. 1268-1284

Print publication:

October 2017

New investigations at the coastal settlement of Unguja Ukuu in Zanzibar have demonstrated the effectiveness of magnetometry as a survey method. The early occupation of this Swahili port, from the sixth century AD, presents a unique opportunity to develop our understanding of the growth and development in settlement and trade along the East African coast. The geophysical survey has allowed the size of this important site to be reassessed and an industrial component to be identified. It also offers an insight into the role that early Islamicisation may have played in helping to establish the settlement as a key port during the growth of the Indian Ocean trade network.
---