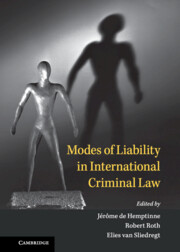 Coming soon

Expected online publication date:

July 2019

Print publication:

11 July 2019

Presently, many of the greatest debates and controversies in international criminal law concern modes of liability for international crimes. The state of the law is unclear, to the detriment of accountability for major crimes and of the uniformity of international criminal law. The present book aims at clarifying the state of the law and provides a thorough analysis of the jurisprudence of international courts and tribunals, as well as of the debates and the questions these debates have left open. Renowned international criminal law scholars analyze, in discrete chapters, the modes of liability one by one; for each mode they identify the main trends in the jurisprudence and the main points of controversy. An introduction addresses the cross-cutting issues, and a conclusion anticipates possible evolutions that we may see in the future. The research on which this book is based was undertaken with the Geneva Academy.
---
Journal: Israel Law Review / Volume 51 / Issue 2 / July 2018
Published online:

07 June 2018

, pp. 321-335

Print publication:

July 2018

In 2016 Daragh Murray published his book Human Rights Obligations of Non-State Armed Groups (Hart 2016). By way of distinction from many other contributions on this widely discussed topic, Murray tries to provide the reader with a complete overview of the legal framework that enables armed groups to acquire international legal status, and preferably outside the framework of armed conflict. He walks the reader through the path of international legal personality, leading towards the acknowledgement of armed groups as addressees of the law. Murray's attempt is courageous, interesting and innovative, but it has its shortcomings. These include his reliance on international criminal law as a source for defining armed groups, and his insistence on stepping outside international humanitarian law. Nonetheless, his contribution is essential for those who wish to include even more armed groups on the international plane.
---
Journal: Israel Law Review / Volume 50 / Issue 1 / March 2017
Published online:

09 February 2017

, pp. 25-47

Print publication:

March 2017

Humanitarian assistance is essential for the survival of the civilian population and people hors de combat in the theatre of war. Its regulation under the laws of armed conflict tries to achieve a balance between humanitarian goals and state sovereignty. This balance, reflected in the provisions of the 1949 Geneva Conventions and their Additional Protocols, is not as relevant to contemporary armed conflicts, most of which involve non-state armed groups. Even those provisions relating to humanitarian assistance in conflicts involving non-state armed groups fail to address properly the key features of these groups, and especially their territorial aspect. This article proposes a different approach, which takes into consideration and gives weight to the control exercised by non-state armed groups over a given territory. Accordingly, it is suggested that provisions regulating humanitarian relief operations in occupied territories should apply to territories controlled by armed groups. This approach views international humanitarian law first and foremost as an effective, realistic and practical branch of law. Moreover, it has tremendous humanitarian advantages and reflects the aims and purposes of the law, while considering the factual framework of these conflicts.
---