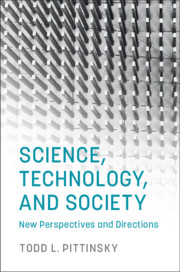 New Perspectives and Directions

Coming soon

Expected online publication date:

October 2019

Print publication:

31 October 2019

This book gathers inter-disciplinary and multi-disciplinary perspectives on the effects that today's advances in science and technology have on issues ranging from government policy-making to how we see the differences between men and women. The chapters investigate how invention and innovation really take place, how science differs from competing forms of knowledge, and how science and technology could contribute more to the greater good of humanity. For instance, should there be legal restrictions on 'immoral inventions'? A key theme that runs throughout the book concerns who is taken into account at each stage and who is affected. The amount of influence users have on technology development and how non-users are factored in are evaluated as the impact of scientific and technological progression on society is investigated, including politics, economy, family life, and ethics.
---