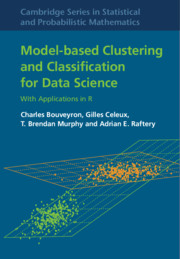 With Applications in R

Coming soon

Expected online publication date:

July 2019

Print publication:

31 July 2019

Cluster analysis finds groups in data automatically. Most methods have been heuristic and leave open such central questions as: how many clusters are there? Which method should I use? How should I handle outliers? Classification assigns new observations to groups given previously classified observations, and also has open questions about parameter tuning, robustness and uncertainty assessment. This book frames cluster analysis and classification in terms of statistical models, thus yielding principled estimation, testing and prediction methods, and sound answers to the central questions. It builds the basic ideas in an accessible but rigorous way, with extensive data examples and R code; describes modern approaches to high-dimensional data and networks; and explains such recent advances as Bayesian regularization, non-Gaussian model-based clustering, cluster merging, variable selection, semi-supervised and robust classification, clustering of functional data, text and images, and co-clustering. Written for advanced undergraduates in data science, as well as researchers and practitioners, it assumes basic knowledge of multivariate calculus, linear algebra, probability and statistics.
---
Quetiapine

v.

lithium in the maintenance phase following a first episode of mania: Randomised controlled trial
Michael Berk, Rothanthi Daglas, Orwa Dandash, Murat Yücel, Lisa Henry, Karen Hallam, Craig Macneil, Melissa Hasty, Christos Pantelis, Brendan P. Murphy, Linda Kader, Saji Damodaran, Michael T. H. Wong, Philippe Conus, Aswin Ratheesh, Patrick D. McGorry, Sue M. Cotton
Journal: The British Journal of Psychiatry / Volume 210 / Issue 6 / June 2017
Published online:

02 January 2018

, pp. 413-421

Print publication:

June 2017

Background

Lithium and quetiapine are considered standard maintenance agents for bipolar disorder yet it is unclear how their efficacy compares with each other.

Aims

To investigate the differential effect of lithium and quetiapine on symptoms of depression, mania, general functioning, global illness severity and quality of life in patients with recently stabilised first-episode mania.

Method

Maintenance trial of patients with first-episode mania stabilised on a combination of lithium and quetiapine, subsequently randomised to lithium or quetiapine monotherapy (up to 800 mg/day) and followed up for 1 year. (Trial registration: Australian and New Zealand Clinical Trials Registry – ACTRN12607000639426.)

Results

In total, 61 individuals were randomised. Within mixed-model repeated measures analyses, significant omnibus treatment × visit interactions were observed for measures of overall psychopathology, psychotic symptoms and functioning. Planned and post hoc comparisons further demonstrated the superiority of lithium treatment over quetiapine.

Conclusions

In people with first-episode mania treated with a combination of lithium and quetiapine, continuation treatment with lithium rather than quetiapine is superior in terms of mean levels of symptoms during a 1-year evolution.
---
Print publication:

09 May 2013

, pp

ix-xii
---