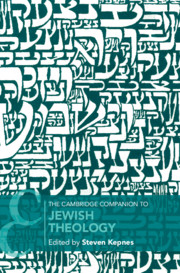 Coming soon

Expected online publication date:

January 2021

Print publication:

31 January 2021

This Companion offers an overview of Jewish Theology, an aspect of Judaism that is equal in importance to law and ethics. Covering the period from antiquity to the present, the volume focuses on what Jews believe about God and also about the relation of God to humans and the world. Part I covers exciting new research in Jewish biblical and rabbinic theology, medieval philosophy, Kabbalah (Mysticism), and Liturgy. Part II turns to modern theology with an exploration of works by leading figures, such as Abraham I Kook, Franz Rosenzweig and Emmanuel Levinas, as well as the relation of theology to issues such as Feminism, the Holocaust, and the relation of Judaism to other world religions. In the final section, the Companion explores how the insights of analytic philosophy have been integrated with Jewish theology.
---
from IV - Jewish Peoplehood

Published online:

28 September 2012

Print publication:

07 May 2012

, pp

519-537

Summary

The subject of liturgy or synagogue ritual has been an abiding concern of modern Jewish philosophers. Moses Mendelssohn suggests that liturgy offers Judaism a special nonidolatrous form of representing God. Hermann Cohen argues that liturgy provides the "language of reason" of the Jewish congregation, and Franz Rosenzweig proposes that liturgy provides a special "Organonstellung" or "system of reasoning" for Jewish thought. Although the first modern Jewish philosopher, Spinoza, regarded Jewish liturgy as anachronistic and unnecessary in his vision of the new modern political order, the central German representatives of Jewish philosophy and American thinkers such as Abraham Joshua Heschel, Arnold Eisen, and a significant number of feminist thinkers celebrate liturgy as central to Jewish religious expression and helpful in meeting the challenge of accommodating Jews and Judaism to the modern political order. Since the new political and social orders of modernity required Jews to curtail the scope of much of Jewish law to accept the authority of state law, synagogue liturgy was one area where halakhah could still have free reign. In emphasizing the philosophical, ethical, and theological power of synagogue liturgy, modern Jewish philosophers provided justification for the modern transformation of Judaism into a "church" or religious community on the model of the Christian churches. Jews could remain Jewish in their synagogues and homes and be Germans, Frenchmen, Englishmen, or Americans in their public and professional lives.
---
Journal: Harvard Theological Review / Volume 81 / Issue 2 / April 1988
Published online by Cambridge University Press:

10 June 2011

, pp. 193-213

Print publication:

April 1988

In speaking about his objective in translating the tales of Nahman of Bratslav in July of 1906 Martin Buber said, "In general it is not my goal to gather new facts, but rather solely to give a new interpretation of their coherence, a new synthetic presentation of Jewish mystics and their creations." Before his death, in responding to harsh criticism of his translations of the Hasidic tales, Buber referred to his work as an attempt "to convey to our own time the force of a former life of faith." His task, as Gershom Scholem once pointed out in derision, was not primarily historical; it was not a process of fact gathering, but it was hermeneutical. He aimed to present a new interpretation of the Hasidic tales of the past which would render them relevant to the crisis of the contemporary reader.
---