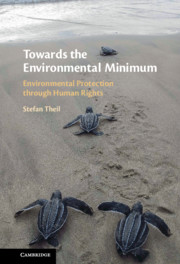 Environmental Protection through Human Rights

Coming soon

Expected online publication date:

June 2021

Print publication:

30 June 2021

Pervasive environmental harm that disproportionately impacts vulnerable members of society is left largely unregulated across the globe despite existing legal commitments to human rights and environmental protection in many states. To address this shortcoming, Stefan Theil proposes a new normative framework for environmental protection through human rights law. In clear and accessible prose, he demonstrates how such a human rights-based approach can strengthen environmental protection without requiring radical departures from established protection regimes and legal principles. The environmental minimum developed in the book translates the general and abstract commitments of states into specific and practical measures that protect the environment. The framework develops the doctrine of international, regional, and domestic courts, analysed through an innovative approach that improves contextual awareness. This book is thus a valuable resource for lawyers, social scientists, political theorists, environmental and human rights advocates.
---
Journal: German Law Journal / Volume 15 / Issue 4 / 01 July 2014
Published online by Cambridge University Press:

06 March 2019

, pp. 599-635

Print publication:

01 July 2014

The lingering European financial crisis continues to threaten the Eurozone and, in the opinion of German Chancellor Angela Merkel, the very survival of the European idea. With this apocalyptic rhetoric, it is easily forgotten that only nine years earlier Europe overcame a predicament that was, at the time, equally described as the most challenging in its history. Two failed referendums in Member States of the European Union (Member States)—namely, in France and the Netherlands—stopped the Treaty establishing a Constitution for Europe (Constitutional Treaty) in its tracks and led to an extended "period of reflection" for Europe's leaders. From this emerged a reboot of the Constitutional Treaty, now dubbed the Treaty of Lisbon, with few substantial changes, but more success throughout the ratification procedures. The final hurdle presented itself in the form of institutionally strong Constitutional Courts (CC) and Tribunals (CT) of the European Member States. Of these, the following were at one time or another seized with complaints against the ratification of the Lisbon Treaty: The Austrian Verfassungsgerichtshof (Austrian CC), the Belgian CC, the Ústavní soud České republiky (Czech CC), the French Conseil Constitutionnel (French CC), the German Bundesverfassungsgericht (German CC), the Hungarian CC, the Latvijas Republikas Satversmes tiesa (Latvian CC), the Polish Trybunał Konstytucyjny (Polish CT), and the Tribunal Constitucional de España (Spanish CT).
---