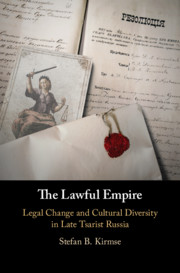 Legal Change and Cultural Diversity in Late Tsarist Russia

Coming soon

Expected online publication date:

November 2019

Print publication:

05 December 2019

The Russian Empire and its legal institutions have often been associated with arbitrariness, corruption, and the lack of a 'rule of law'. Stefan B. Kirmse challenges these assumptions in this important new study of empire-building, minority rights, and legal practice in late Tsarist Russia, revealing how legal reform transformed ordinary people's interaction with state institutions from the 1860s to the 1890s. By focusing on two regions that stood out for their ethnic and religious diversity, the book follows the spread of the new legal institutions into the open steppe of Southern Russia, especially Crimea, and into the fields and forests of the Middle Volga region around the ancient Tatar capital of Kazan. It explores the degree to which the courts served as instruments of integration: the integration of former borderlands with the imperial centre and the integration of the empire's internal 'others' with the rest of society.
---
Journal: Slavic Review / Volume 72 / Issue 4 / Winter 2013
Published online by Cambridge University Press:

20 January 2017

, pp. 778-801

Print publication:

Winter 2013

This article combines an investigation of legal practice in late tsarist Russia with an analysis of imperial rule. The Judicial Reform of 1864 introduced new legal principles, institutions, and rules of court procedure into the empire. Focusing on legal interaction in the newly established circuit courts in Crimea and Kazan, this article explores the implications of Tatar legal involvement in state courts for both the empire's legal reform process and its policies toward ethnic and religious minorities. It discusses the courts as tools for the integration of these multiethnic regions with the imperial center and shows how legal unification developed in a context of dynamic, and locally specific, plural legal orders. It concludes that minority policies were characterized by the simultaneous pursuit of integration and the promotion of difference. The article draws mainly on court records from Kazan and Simferopol (Crimea), newspaper coverage, and on the reports and memoirs of jurists.
---