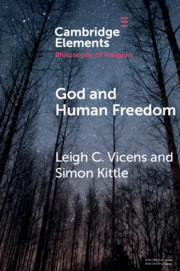 Published online:

03 July 2019

Print publication:

04 July 2019

This Element considers the relationship between the traditional view of God as all-powerful, all-knowing and wholly good on the one hand, and the idea of human free will on the other. It focuses on the potential threats to human free will arising from two divine attributes: God's exhaustive foreknowledge and God's providential control of creation.
---
Journal: Religious Studies , First View
Published online by Cambridge University Press:

16 October 2018

, pp. 1-18

Sennett (1999) and Pawl and Timpe (2009; 2013) attempt to show how we can praise heavenly agents for things they inevitably do in heaven by appealing to the notion of derivative freedom. Matheson (2017) has criticized this use of derivative freedom. In this article I show why Matheson's argument is inconclusive but also how the basic point may be strengthened to undermine the use Sennett and Pawl and Timpe make of derivative freedom. I then show why Matheson is mistaken to claim that the value of free choice depends on an agent retaining the ability to change their mind; in so doing I demonstrate that some choices which result in fixed outcomes – a feature of the choices leading to impeccability – can indeed be valuable even if they cannot be undone.
---