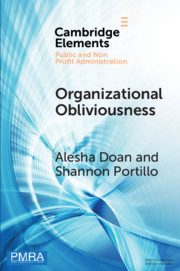 Entrenched Resistance to Gender Integration in the Military
Published online:

03 June 2019

Print publication:

13 June 2019

Exploring efforts to integrate women into combat forces in the military, we investigate how resistance to equity becomes entrenched, ultimately excluding women from being full participants in the workplace. Based on focus groups and surveys with members of Special Operations, we found most of the resistance is rooted in traditional gender stereotypes that are often bolstered through organizational policies and practices. The subtlety of these practices often renders them invisible. We refer to this invisibility as organizational obliviousness. Obliviousness exists at the individual level, it becomes reinforced at the cultural level, and, in turn, cultural practices are entrenched institutionally by policies. Organizational obliviousness may not be malicious or done to actively exclude or harm, but the end result is that it does both. Throughout this Element we trace the ways that organizational obliviousness shapes individuals, culture, and institutional practices throughout the organization.
---
Journal: Law & Social Inquiry / Volume 35 / Issue 3 / Summer 2010
Published online by Cambridge University Press:

27 December 2018

, pp. 603-623

Print publication:

Summer 2010

Thanks to the civil rights movement, women and racial and ethnic minorities increasingly hold positions of public authority—but they experience and exercise this authority differently from white men. Based on 162 narratives collected from 49 US local government officials (city administrators and police), I find that women, minorities, and younger officials in positions of authority face a paradox of rules. Because they have lower social status with the public and within their organizations, they must rely on formal and explicit rules as a key basis for their authority, but such reliance causes their very authority to be questioned. Social status based on implicit assumptions about social identities, including race or ethnicity, sex, and age, originates outside of organizations and has effects society wide. This study shows that social status continues to permeate US local government organizations in both subtle and explicit ways, even in bureaucratic settings that are formally committed to merit and professional norms.
---