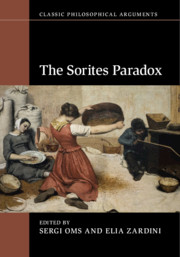 Coming soon

Expected online publication date:

August 2019

Print publication:

31 August 2019

For centuries, the sorites paradox has spurred philosophers to think and argue about the problem of vagueness. This volume offers a guide to the paradox which is both an accessible survey and an exposition of the state of the art, with a chapter-by-chapter presentation of all of the main solutions to the paradox and of all its main areas of influence. Each chapter offers a gentle introduction to its topic, gradually building up to a final discussion of some open problems. Students will find a comprehensive guide to the fundamentals of the paradox, together with lucid explanations of the challenges it continues to raise. Researchers will find exciting new ideas and debates on the paradox.
---
Published online:

05 June 2018

, pp. 1-11

One of the main problems that Paul Horwich's Minimalist theory of truth must face is the generalization problem, which shows that Minimalism is too weak to have the fundamental explanatory role Horwich claims it has. In this paper, I defend Horwich's response to the generalization problem from an objection raised by Bradley Armour-Garb. I also argue that, given my response to Armour-Garb, Horwich's proposal to cope with the generalization problem can be simplified.
---