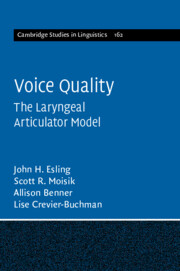 The Laryngeal Articulator Model

Coming soon

Expected online publication date:

June 2019

Print publication:

20 June 2019

The first description of voice quality production in forty years, this book provides a new framework for its study: The Laryngeal Articulator Model. Informed by instrumental examinations of the laryngeal articulatory mechanism, it revises our understanding of articulatory postures to explain the actions, vibrations and resonances generated in the epilarynx and pharynx. It focuses on the long-term auditory-articulatory component of accent in the languages of the world, explaining how voice quality relates to segmental and syllabic sounds. Phonetic illustrations of phonation types and of laryngeal and oral vocal tract articulatory postures are provided. Extensive video and audio material is available on a companion website. The book presents computational simulations, the laryngeal and voice quality foundations of infant speech acquisition, speech/voice disorders and surgeries that entail compensatory laryngeal articulator adjustment, and an exploration of the role of voice quality in sound change and of the larynx in the evolution of speech.
---
Published online:

16 April 2019

, pp. 1-35

This paper outlines a theoretical approach to speech sound systems based on the notion of phonological potentials: physical 'pressures' or biases that give rise to discrete structure and the tendencies associated with this structure that arise from the physical nature of speech sound systems. We apply this approach to a poorly understood area of phonology – phenomena of the lower vocal tract (LVT) – through a schematic that encapsulates the complex interactions among the vocal tract structures responsible for producing LVT sounds. With the framework, we provide an account of a range of LVT phenomena from several languages, illustrating how tonal, phonatory, and vowel qualities interact. Finally, we consider how the idea of phonological potentials extends across various physical domains and might exhibit patterns of alignment across these domains, thereby serving to guide the formation of patterns found in speech sound systems.
---
Journal: Journal of the International Phonetic Association / Volume 44 / Issue 1 / April 2014
Published online:

21 March 2014

, pp. 21-58

Print publication:

April 2014

In this work, Mandarin tone production is examined using simultaneous laryngoscopy and laryngeal ultrasound (SLLUS). Laryngoscopy is used to obtain information about laryngeal state, and laryngeal ultrasound is used to quantify changes in larynx height. With this methodology, several observations are made concerning the production of Mandarin tone in citation form. Two production strategies are attested for low tone production: (i) larynx lowering and (ii) larynx raising with laryngeal constriction. Another finding is that the larynx rises continually during level tone production, which is interpreted as a means to compensate for declining subglottal pressure. In general, we argue that larynx height plays a supportive role in facilitating f0 change under circumstances where intrinsic mechanisms for f0 control are insufficient to reach tonal targets due to vocal fold inertia. Activation of the laryngeal constrictor can be used to achieve low tone targets through mechanical adjustment to vocal fold dynamics. We conclude that extra-glottal laryngeal mechanisms play important roles in facilitating the production of tone targets and should be integrated into the contemporary articulatory model of tone production.
---