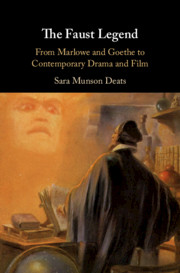 From Marlowe and Goethe to Contemporary Drama and Film

Coming soon

Expected online publication date:

September 2019

Print publication:

30 September 2019

What do men and women desire? For what will they barter their immortal souls? These two questions have haunted Western society, and these persistent queries find their fullest embodiment in the Faust legend. This memorable story, told and retold in novels, prose fiction, and drama, has also profoundly influenced music, art, and cinema. Sara Munson Deats explores its impact, tracing the development of the Faust topos from the seminal works of Marlowe and Goethe to the large number of dramatic and cinematic adaptations which have fascinated audiences and readers throughout the centuries. Her study traces the durability of this legend and its pervasive influence on the literature of the Western world, in which it has adapted across time, languages, and nations to reflect the concerns of a given era or place. This is the first comparative analysis of the Faust legend in drama and film.
---
Published online:

28 May 2006

Print publication:

15 July 2004

, pp

193-206

Summary

On first consideration, Dido, Queen of Carthage and The Massacre at Paris may seem an odd couple to discuss in tandem. In many ways the plays represent polarities within the Marlowe canon. Despite the many questions surrounding the dating of Dido, Queen of Carthage, most scholars agree that it is Marlowe's first dramatic effort, perhaps scripted while he was still a student at Cambridge, and The Massacre at Paris one of his last, probably written sometime in 1592. Moreover, Dido finds its provenance in classical epic, dramatizing Books 1, 2, and 4 of Virgil's Aeneid with a veneer of Ovidian shading from the Heroides, whereas The Massacre is Marlowe's only play based on topical events, a rehearsal of recent upheavals in France. Additionally, whereas Dido was first performed by boy actors for a private theatre, The Massacre was apparently acted by a professional company. Finally, although many aspects of Dido have been interrogated - authorship, date, genre - the text of the play has not been questioned; conversely, The Massacre is generally accepted as Marlowe's most corrupt text, most likely the truncated product of memorial reconstruction by a troop of actors.

However, despite these many antitheses, similarities between the two plays abound, a number of which will be examined in this chapter. Although both plays share a traditional scholarly neglect, both have recently evoked considerable critical interest. Moreover, each play presents tragic protagonists – Dido and the Guise – who struggle for national leadership within a complex web of political and amatory events that determine their downfalls, even though in Dido the web is woven by the gods, in The Massacre by combating political forces. In addition, in typical Marlovian fashion, both plays dramatize multiple inversions of accepted rubrics of politics, gender, and sexuality, and in both plays the accepted audience response to these subversive behaviours has been debated by commentators.
---