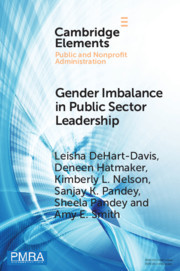 Published online:

13 July 2020

Print publication:

30 July 2020

Women are still underrepresented as public-sector organizational leaders, despite comprising half of the United States public-sector workforce. To explore the factors driving gender imbalance, this Element employs a problem-driven approach to examine gender imbalance in local government management. We use multiple methods, inductive and deductive research, and different theoretical frames for exploring why so few women are city or county managers. Our interviews, resume analysis and secondary data analysis suggesting that women in local government management face a complex puzzle of gendered experiences, career paths and appointment circumstances that lend insights into gender imbalanced leadership in this domain.
---
Journal: CNS Spectrums / Volume 15 / Issue 7 / July 2010
Published online by Cambridge University Press:

07 November 2014

, pp. 445-455

Print publication:

July 2010

Background: Cross-cultural factors attributed to obsessive-compulsive disorder (OCD) that are widely investigated around the world are mostly epidemiological, with no respect to the impact of culture on the structure of OCD behavior itself.

Methods: Nine Israeli and nine British OCD patients with respective non-OCD individuals were compared. To determine whether OCD symptoms are consistent across cultures, similarities in behavior were analyzed, as well as differences due to a country effect. In each country, nine OCD patients and nine non-OCD individuals were videotaped while performing the task that the patients attributed to their behavior.

Results: Except for a significantly higher rate of repetition and higher performance of idiosyncratic acts, patients from both Israel and the United Kingdom showed high levels of similarities in 22 out of 24 parameters. Compared with Israeli subjects, British OCD patients had significantly longer chains of idiosyncratic acts, and a twice-higher prevalence of brief (1–2 second) idiosyncratic acts. Between-country differences were mild, possibly overridden by the conspicuous impact of OCD pathology, resulting in a similar OCD phenotype.

Conclusion: These results qualitatively and quantitatively emphasize the universal appearance of the compulsions in OCD symptoms.
---