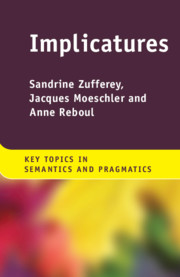 Coming soon

Expected online publication date:

June 2019

Print publication:

13 June 2019

An accessible and thorough introduction to implicatures, a key topic in all frameworks of pragmatics. Starting with a definition of the various types of implicatures in Gricean, neo-Gricean and post-Gricean pragmatics, the book covers many important questions for current pragmatic theories, namely: the distinction between explicit and implicit forms of pragmatic enrichment, the criteria for drawing a line between semantic and pragmatic meaning, the relations between the structure of language (syntax) and its use (pragmatics), the social and cognitive factors underlying the use of implicatures by native speakers, and the factors influencing their acquisition for children and second language learners. Written in non-technical language, Implicatures will appeal to students and teachers in linguistics, applied linguistics, psychology and sociology, who are interested in how language is used for communication, and how children and learners develop pragmatic skills.
---
Journal: Journal of French Language Studies / Volume 28 / Issue 1 / March 2018
Published online:

13 July 2017

, pp. 85-112

Print publication:

March 2018

The difference between 'car' and 'parce que' is often explained in the literature by the type of causal relation (objective or subjective) that each connective prototypically conveys. Recent corpus studies have demonstrated, however, that this distinction does not hold in speech, and is fluctuating in writing. In this article, we present new empirical data to assess the status of this pair of connectives. In Experiment 1, we test French-speakers' intuitions about 'car' and 'parce que' in a completion task, and compare these results with those of a similar experiment in Dutch. In Experiment 2, we measure the processing of objective and subjective causal relations containing 'car' and 'parce que' in an online reading experiment. Experiments 1 and 2 lead us to conclude that 'car' has to a large extent lost its specific procedural meaning. In the literature, the difference between 'car' and 'parce que' is also linked to a difference of register, 'car' being perceived as a formal equivalent of 'parce que'. We assess the strength of this distinction in Experiment 3, by means of a completion task involving sentences from different registers. Results confirm the effect of register as a distinguishing factor between 'car' and 'parce que'.
---