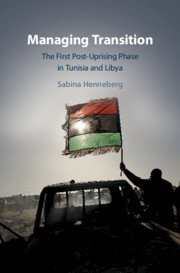 The First Post-Uprising Phase in Tunisia and Libya

Coming soon

Expected online publication date:

November 2020

Print publication:

30 November 2020

Examining the factors that shaped the first interim governments of Tunisia and Libya, which formed in the immediate aftermath of the 2011 uprisings that brought down their governments, Managing Transition analyses each interim government to enhance our understanding of how political transition occurred within two North African countries. Tracing the importance of the key decisions made during these transition periods, Sabina Henneberg demonstrates the importance of these decisions taken during the short phase between authoritarian collapse and first post-uprising elections, including decisions around leadership, institutional reform, transitional justice, and the electoral processes themselves. By documenting, in close detail, the important events of the 2011 Arab Uprisings, and the months that followed, this study shows that while pre-existing structures strongly influence the design and behaviour of first interim governments, actors' choices are equally important in shaping both immediate and longer-term phases of transition.
---
Journal: Review of Middle East Studies / Volume 53 / Issue 2 / December 2019
Published online by Cambridge University Press:

27 November 2019

, pp. 306-320

Print publication:

December 2019

This article examines changes in Tunisian political and societal life that allowed the country's second attempt at political opening (beginning in 2011) to introduce deeper, more long-lasting changes in its political system as compared to the first attempt (beginning in 1987).1 The article argues that three such changes in particular—the increased role of regime moderates; the development of a network of civil society groups and political activists; and the use of inclusion, negotiation, and consensus—allowed the second attempt to unfold differently. The article also briefly discusses developments in the international context between the two attempts. The article contributes to existing studies of regime change and political transition as well as to historical considerations of Tunisian political developments more broadly.
---