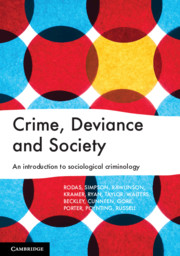 An Introduction to Sociological Criminology

Coming soon

Expected online publication date:

September 2020

Print publication:

14 October 2020

Crime, Deviance and Society: An Introduction to Sociological Criminology offers a comprehensive introduction to criminological theory. The book introduces readers to key sociological theories, such as anomie and strain, and examines how traditional approaches have influenced the ways in which crime and deviance are constructed. It provides a nuanced account of contemporary theories and debates, and includes chapters covering feminist criminology, critical masculinities, cultural criminology, green criminology, and postcolonial theory, among others. Case studies in each chapter demonstrate how sociological theories can manifest within and influence the criminal justice system and social policy. Each chapter also features margin definitions and timelines of contributions to key theories, reflection questions and end-of-chapter questions that prompt students reflection. Written by an expert team of academics from Australia, New Zealand and the United Kingdom, Crime, Deviance and Society is a highly engaging and accessible introduction to the field for students of criminology and criminal justice.
---
from Section A - A Sociological Perspective

Published online:

14 November 2019

Print publication:

07 November 2019

, pp

26-40

Summary

Innovations in practice and new subcultural dynamics in graffiti and street art have generated a range of novel dilemmas. This chapter introduces and draws attention to one such dilemma: the tensions that accompany being caught between corporatization and corporate appropriation. The possible market value of graffiti and street art have increasingly been recognized and exploited in recent years. While some graffiti writers and street artists have certainly been the beneficiaries of this process, it is also the case that graffiti and street art are often appropriated by corporate interests. In such instances, graffiti and street art may play a significant role in generating profit, but this does not guarantee that the initial creative producers will reap any financial rewards. This has led some graffiti writers and street artists to call on the law to protect their interests, a strategy that would have appeared unthinkable in the early days of graffiti writing culture.
---
Journal: MRS Online Proceedings Library Archive / Volume 341 / 1994
Published online by Cambridge University Press:

15 February 2011

, 355

Print publication:

1994

Epitaxial PbTiO3 thin films have been grown on single-crystal MgO (100) substrates using metalorganic chemical vapor deposition technique. The energy gap was determined from optical absorption data to be Eg= 3,425 eV. Secondary ion mass spectrometry data showed uniform distribution of Pb, Ti and O atoms with no traces of carbon contamination. Atomic force microscopy studies showed different surface morphology for different film growth rates. In-situ X-ray diffraction data indicate that the tetragonal-to-cubic structural phase transition occurs at about 500–520°C. Above 750 °C the films exhibit multi-phase character, the textured PbTiO3 phase co-existing with a polycrystalline Pb2Ti2O6 structure and a possible Mg-containing impurity phase.
---