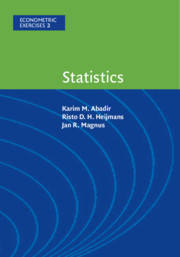 Coming soon

Expected online publication date:

October 2018

Print publication:

08 November 2018

Building on the success of Abadir and Magnus' Matrix Algebra in the Econometric Exercises Series, Statistics serves as a bridge between elementary and specialized statistics. Professors Abadir, Heijmans, and Magnus freely use matrix algebra to cover intermediate to advanced material. Each chapter contains a general introduction, followed by a series of connected exercises which build up knowledge systematically. The characteristic feature of the book (and indeed the series) is that all exercises are fully solved. The authors present many new proofs of established results, along with new results, often involving shortcuts that resort to statistical conditioning arguments.
---
Journal: Econometric Theory / Volume 2 / Issue 3 / December 1986
Published online by Cambridge University Press:

18 October 2010

, pp. 374-412

Print publication:

December 1986

In this article we aim to establish intuitively appealing and verifiable conditions for the first-order efficiency and asymptotic normality of ML estimators in a multi-parameter framework, assuming joint normality but neither the independence nor the identical distribution of the observations. We present five theorems (and a large number of lemmas and propositions), each being a special case of its predecessor.
---