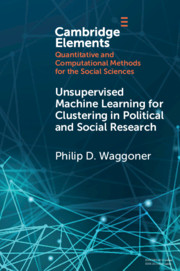 Published online:

15 December 2020

Print publication:

28 January 2021

In the age of data-driven problem-solving, applying sophisticated computational tools for explaining substantive phenomena is a valuable skill. Yet, application of methods assumes an understanding of the data, structure, and patterns that influence the broader research program. This Element offers researchers and teachers an introduction to clustering, which is a prominent class of unsupervised machine learning for exploring and understanding latent, non-random structure in data. A suite of widely used clustering techniques is covered in this Element, in addition to R code and real data to facilitate interaction with the concepts. Upon setting the stage for clustering, the following algorithms are detailed: agglomerative hierarchical clustering, k-means clustering, Gaussian mixture models, and at a higher-level, fuzzy C-means clustering, DBSCAN, and partitioning around medoids (k-medoids) clustering.
---
Journal: British Journal of Political Science , First View
Published online by Cambridge University Press:

22 June 2020

, pp. 1-20

The media's ability to freely gather and disseminate information remains a critical aspect of democracy. Studies link media freedom to other concepts including human rights, corruption, democratic peace and conflict, natural resource wealth, political knowledge and foreign aid. However, media freedom's many facets make it difficult for any single index to fully capture. To develop a more robust measure, this article treats media freedom as a latent variable and analyzes ten extant indicators by fitting an item response theory model. Utilizing a Bayesian approach, the model generates time-series, cross-sectional data on a bounded, unidimensional scale from 0 to 1 that measures media freedom in 197 countries from 1948 to 2017. After numerous validity checks, the authors utilize their new Media System Freedom data to replicate Egorov, Guriev and Sonin's (2009) analysis of media freedom and natural resource wealth. The findings indicate that the published results do not hold once the more robust measure is included.
---
Ryan Kennedy

,

Scott Clifford

,

Tyler Burleigh

,

Philip D. Waggoner

,

Ryan Jewell

,

Nicholas J. G. Winter
Journal: Political Science Research and Methods / Volume 8 / Issue 4 / October 2020
Published online by Cambridge University Press:

24 April 2020

, pp. 614-629

Print publication:

October 2020

Article

Amazon's Mechanical Turk is widely used for data collection; however, data quality may be declining due to the use of virtual private servers to fraudulently gain access to studies. Unfortunately, we know little about the scale and consequence of this fraud, and tools for social scientists to detect and prevent this fraud are underdeveloped. We first analyze 38 studies and show that this fraud is not new, but has increased recently. We then show that these fraudulent respondents provide particularly low-quality data and can weaken treatment effects. Finally, we provide two solutions: an easy-to-use application for identifying fraud in the existing datasets and a method for blocking fraudulent respondents in Qualtrics surveys.
---