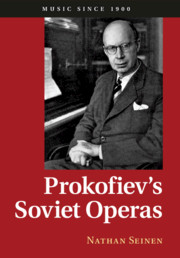 Coming soon

Expected online publication date:

August 2019

Print publication:

05 September 2019

Prokofiev considered himself to be primarily a composer of opera, and his return to Russia in the mid-1930s was partially motivated by the goal to renew his activity in this genre. His Soviet career coincided with the height of the Stalin era, when official interest and involvement in opera increased, leading to demands for nationalism and heroism to be represented on the stage to promote the Soviet Union and the Stalinist regime. Drawing on a wealth of primary source materials and engaging with recent scholarship in Slavonic studies, this book investigates encounters between Prokofiev's late operas and the aesthetics of socialist realism, contemporary culture (including literature, film, and theatre), political ideology, and the obstacles of bureaucratic interventions and historical events. This contextual approach is interwoven with critical interpretations of the operas in their original versions, providing a new account of their stylistic and formal features and connections to operatic traditions.
---
Journal: Cambridge Opera Journal / Volume 21 / Issue 3 / November 2009
Published online by Cambridge University Press:

04 October 2010

, pp. 203-236

Print publication:

November 2009

This article examines the first opera of Prokofiev's Soviet period, Semyon Kotko (1939), in light of the disparity between two forms of melodrama, one affecting the opera's composition, the other its reception. The first is the classic melodrama, which offered the composer the foundation for a vivid, intense work that would also be suitable for a mass audience; the second is the melodrama reflecting the aesthetic norms and moral framework of socialist realism and High Stalinism. The simplicity and immediacy of Kotko avoided the directed emotionalism of the officially favoured model of Romantic opera, and the Ukrainian setting prompted references to the tradition of Gogolian comedy rather than an elevation of folk content to an epic dimension. Characters conform to archetypes of classic melodrama, and together with the opera's comic elements and the unique gestural idiom of its music and manner of performance, this detracted from the required effects of sublime heroism and nationalism. While the outlines of a socialist realist plot remain in Kotko, Prokofiev's commitment to what he considered timeless values of music and drama led to a failure, in socialist realist terms, to achieve an appropriate amplification of its moral essence.
---