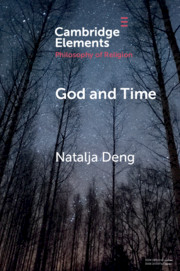 Published online:

12 December 2018

Print publication:

29 November 2018

The God of Western religion is said to be eternal. But what does that mean? Is God somehow beyond time, living a life that does not involve one thing after another? Or is God's relationship to time much more like ours, so that God's eternality just consists in there being no time at which God doesn't exist? Even for non-believers, these issues have interesting implications for the relation between historical and scientific findings on the one hand, and religion on the other. This Element introduces the reader to the requisite metaphysical background, and then examines reasons for and against thinking of God as timeless.
---
Journal: Journal of the American Philosophical Association / Volume 1 / Issue 3 / Fall 2015
Published online:

22 September 2015

, pp. 417-432

Print publication:

Fall 2015

What, if anything, makes death bad for the deceased themselves? Deprivationists hold that death is bad for the deceased iff it deprives them of intrinsic goods they would have enjoyed had they lived longer. This view faces the problem that birth too seems to deprive one of goods one would have enjoyed had one been born earlier, so that it too should be bad for one. There are two main approaches to the problem. In this paper, I explore the second approach, by Anthony Brueckner and John Martin Fischer, and suggest that it can be developed so as to meet deprivationists' needs. On the resulting view, metaphysical differences between the future and the past give rise to a corresponding axiological difference in the intrinsic value of future and past experiences. As experiences move into the past, they lose their intrinsic value for the person.
---
Journal: Religious Studies / Volume 48 / Issue 2 / June 2012
Published online:

17 November 2011

, pp. 257-268

Print publication:

June 2012

This article is an evaluation of Le Poidevin's use of Carnap's stance on ontology within the philosophy of religion. Le Poidevin claims that (1) theists need to take God to be a putative entity within space-time in order for their claim that God exists to be meaningful, and that (2) instrumentalism about theology is viable. I argue that although Le Poidevin's response to Carnap's argument is no less problematic than that argument itself, his position is in fact thoroughly un-Carnapian. The upshot is that his discussion provides some support to atheism, but none to either of his two official conclusions.
---