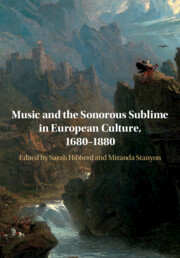 Coming soon

Expected online publication date:

May 2020

Print publication:

31 May 2020

The sublime - that elusive encounter with overwhelming height, power or limits - has been associated with music from the early-modern rise of interest in the Longinian sublime to its saturation of European culture in the later nineteenth century and beyond. This volume offers a historically situated study of the relationship between music, sound and the sublime. Together, the authors distinguish between the different aesthetics of production, representation and effect, while understanding these as often mutually reinforcing approaches. They demonstrate music's strength in playing out the sublime as transfer, transport and transmission of power, allied to the persistent theme of destruction, deaths and endings. The volume opens up two avenues for further research suggested by the adjective 'sonorous': a wider spectrum of sounds heard as sublime, and (especially for those outside musicology) a more multifaceted idea of music as a cultural practice that shares boundaries with other sounding phenomena.
---
Journal: Transactions of the Royal Historical Society / Volume 29 / December 2019
Published online by Cambridge University Press:

01 November 2019

, pp. 79-103

Print publication:

December 2019

While there have been growing calls for historians to listen to the past, there are also significant barriers to integrating music in particular into broader historical practice. This article reflects on both the gains and difficulties of this integration, moving from an interrogation of the category of music to three case studies. These concern musical terms, compositional practices and cultures from the fifteenth to eighteenth centuries, revisiting some key debates in musicology: first, the highly charged language of sweetness deployed in the fifteenth century; second, connections discerned in nineteenth-century music history between medieval polyphony and contemporary attitudes towards time and authority; and, third, debate over the anti-Jewish implications of Handel's music, which we approach through his Dixit Dominus and a history of psalm interpretation stretching back to late antiquity. Through these case studies, we suggest the contribution of music to necessarily interdisciplinary fields including the study of temporality and emotions, but also explore how a historical hermeneutic with a long pedigree – 'diversity of times' (diversitas temporum) – might help to reframe arguments about musical interpretation. The article concludes by arguing that the very difficulty and slipperiness of music as a source can encourage properly reflective historical practice.
---
Journal: Journal of the Royal Musical Association / Volume 142 / Issue 2 / 2017
Published online by Cambridge University Press:

01 January 2020

, pp. 221-255

Print publication:

2017

This article examines the early writings of one of Handel's English librettists, Newburgh Hamilton. It describes what seems to be Hamilton's first publication, the little-studied Tory satire The Changes (1711), sets it alongside other early publications and biographical details, and reads this material alongside two of Hamilton's librettos for Handel, Alexander's Feast (1736) and Samson (1743). Hamilton's early writings are approached less as contexts for the oratorios than as texts with their own interest, and as intertexts to be set in dialogue with later productions. The article seeks to contribute to debate over the politics of Handel's vocal music, debate provoked not least by the difficulties of defining the sphere and meanings of politics in eighteenth-century culture, and of conceptualizing the collaborative endeavours and multiple sites of composition, patronage, business, performance and reception that make up Handel's oratorios.
---