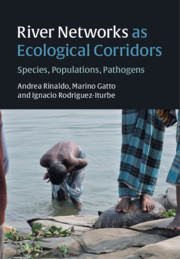 Species, Populations, Pathogens

Coming soon

Expected online publication date:

September 2020

Print publication:

30 September 2020

River networks are critically important ecosystems. This interdisciplinary book provides an integrated ecohydrological framework blending laboratory, field, and theoretical evidence that changes our understanding of river networks as ecological corridors. It describes how the physical structure of the river environment impacts biodiversity, species invasions, population dynamics, and the spread of waterborne disease. State-of-the-art research on the ecological roles of the structure of river networks is summarized, including important studies on the spread and control of waterborne diseases, biodiversity loss due to water resource management, and invasions by non-native species. Practical implications of this research are illustrated with numerous examples throughout. This is an invaluable go-to reference for graduate students and researchers interested in river ecology and hydrology, and the links between the two. Describing new related research on spatially-explicit modeling of the spread of waterborne disease, this book will also be of great interest to epidemiologists and public health managers.
---
Journal: Parasitology / Volume 143 / Issue 7 / June 2016
Published online by Cambridge University Press:

22 March 2016

, pp. 880-893

Print publication:

June 2016

In this paper we derive from first principles the expected body sizes of the parasite communities that can coexist in a mammal of given body size. We use a mixture of mathematical models and known allometric relationships to examine whether host and parasite life histories constrain the diversity of parasite species that can coexist in the population of any host species. The model consists of one differential equation for each parasite species and a single density-dependent nonlinear equation for the affected host under the assumption of exploitation competition. We derive threshold conditions for the coexistence and competitive exclusion of parasite species using invasion criteria and stability analysis of the resulting equilibria. These results are then used to evaluate the range of parasites species that can invade and establish in a target host and identify the 'optimal' size of a parasite species for a host of a given body size; 'optimal' is defined as the body size of a parasite species that cannot be outcompeted by any other parasite species. The expected distributions of parasites body sizes in hosts of different sizes are then compared with those observed in empirical studies. Our analysis predicts the relative abundance of parasites of different size that establish in the host and suggests that increasing the ratio of parasite body size to host body size above a minimum threshold increases the persistence of the parasite population.
---
Journal: Animal Conservation forum / Volume 6 / Issue 1 / February 2003
Published online by Cambridge University Press:

06 February 2003

, pp. 71-81

Print publication:

February 2003

Changes in abundance and the risk of extinction of the rock partridge Alectoris graeca saxatilis in the Dolomitic Alps were investigated using a density-dependent model that incorporated dispersal and environmental stochasticity. The study was based on spring and summer counts collected from sample areas in geographically distinct mountain groups. Extinction probability was investigated by simulating a discrete population and a metapopulation consisting of local populations connected by dispersal. Persistence was not guaranteed when the species was examined as a discrete population. When we used a metapopulation approach, the persistence was assured but local extinctions with subsequent recolonizations of a number of empty areas were observed. The analysis was repeated using hunting statistics, when there were no restrictions on hunting policies, and a similar high extinction pattern was found. Our simulations suggested that long-term persistence of rock partridge could be guaranteed only when immigration was included into the demographic model. However, if the increased population's fragmentation recorded since the 1950s persists the extinction of some of the subpopulations appears inevitable.
---