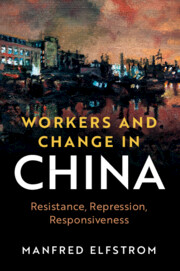 Resistance, Repression, and Responsiveness

Coming soon

Expected online publication date:

January 2021

Print publication:

01 February 2022
---
Journal: The China Quarterly / Volume 240 / December 2019
Published online by Cambridge University Press:

12 March 2019

, pp. 855-879

Print publication:

December 2019

What impact is the current rise in workplace conflict having on governance in China? This article argues that, over time, protests are driving the state in two directions at once: towards greater repression and greater responsiveness. Using an original dataset of strikes, protests and riots by Chinese workers between 2003 and 2012, along with government budgetary and judicial statistics, the article demonstrates that significant, positive correlations exist at the provincial level between increased unrest on the one hand and both increased spending on the People's Armed Police (repression) and increasing numbers of pro-worker and split decisions in mediation, arbitration and court cases (responsiveness) on the other. Feedback effects exist with regard to responsiveness, though: more cases in which workers win something in turn seem to spur greater unrest. The article closes by noting the changes since Xi Jinping took office and examining the implications of the findings for China's political development.
---