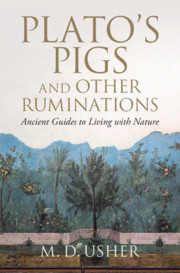 Ancient Guides to Living with Nature

Coming soon

Expected online publication date:

November 2020

Print publication:

30 November 2020

The Greeks and Romans have been charged with destroying the ecosystems within which they lived. In this book, however, M. D. Usher argues rather that we can find in their lives and thought the origin of modern ideas about systems and sustainability, important topics for humans today and in the future. With chapters running the gamut of Greek and Roman experience – from the Presocratics and Plato to Roman agronomy and the Benedictine Rule – Plato's Pigs brings together unlikely bedfellows, both ancient and modern, to reveal surprising connections. Lively prose and liberal use of anecdotal detail, including an afterword about the author's own experiments with sustainable living on his sheep farm in Vermont, add a strong authorial voice. In short, this is a unique, first-of-its-kind book that is sure to be of interest to anyone working in Classics, environmental studies, philosophy, ecology, or the history of ideas.
---
Journal: MRS Online Proceedings Library Archive / Volume 928 / 2006
Published online by Cambridge University Press:

01 February 2011

, 0928-GG09-17

Print publication:

2006

Many studies of Barium Strontium Titanate (BST) thin films for RF / microwave applications have employed MgO, LaAlO3 or Pt/Si as the substrate material for BST deposition. However, there have been relatively few reports of BST films grown on sapphire, despite the excellent microwave properties of this material. In this investigation, BST thin films were deposited by RF magnetron sputtering on (001) single crystal c-plane sapphire substrates. Interdigitated capacitors (IDCs) patterned on the film surface were used to measure the dielectric tunability and loss tangent at microwave frequencies. Thick Au conductors were electroplated to minimize conductor losses. Post deposition annealing in air was found to significantly improve the tunability of the sputtered films.
---
Journal: The Classical Review / Volume 53 / Issue 2 / October 2003
Published online by Cambridge University Press:

13 April 2006

, pp. 313-314

Print publication:

October 2003
---