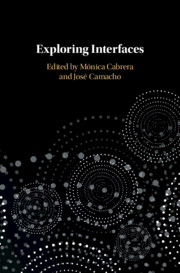 Coming soon

Expected online publication date:

August 2019

Print publication:

31 August 2019

Models of theoretical linguistics now emphasize the meeting points, or interfaces, between different aspects of our language capacity. Syntactic operations include structure-building, checking long-distance relationships between units, and connecting alternative word orders. This volume presents a collection of original studies that explore the mapping between these operations and other language-related areas such as word meanings, discourse contexts, the construction of meaning for larger units, and the alternative expressions of word order. It differs from previous traditional research on interfaces by bringing together studies and analyses from a range of languages, using monolingual varieties that include second language phenomena. Case studies of different types of interfaces, as well as studies based on lesser known sets of linguistic data, provide important examples that propose a new view of the connections between syntactic processes and other areas of grammar.
---
Marina Luciana Maldonado, Mónica Teresa Blarasin, Adriana Edith Cabrera, Héctor Osvaldo Panarello, Cristina Dapeña
Journal: Radiocarbon / Volume 58 / Issue 4 / December 2016
Published online:

19 August 2016

, pp. 833-849

Print publication:

December 2016

In Córdoba Province, Argentina, the population uses groundwater from confined aquifer systems (CASs) for different activities. Therefore, it is necessary to carry out comprehensive studies in order to plan more sustainable use considering that groundwater renewal times can be of several thousands of years. The objective of this research is to evaluate groundwater age in confined aquifers based on hydraulic and isotopic methods. The CASs present variable extension, are multilayered and formed by thin (4–6 m) sand-pebble lenses, and are linked to Neogene fluvial paleosystems. These layers are situated at different depths (120–400 m) and interbedded with thick clay strata. The interpretations made from 2H, 18O, and 3H results and hydraulic calculations suggest that the groundwater is old. Furthermore, an age gradient was observed that increases with depth and flow direction. The 14C ages obtained for the CASs labeled A2, C, and D were 3.6–1.1 ka BP, 10.8 ka BP, and 46.0–40.5 ka BP, respectively. These results indicate that A2 and C contain groundwater recharged during Holocene cold periods, between the Little Ice Age and the ending of the Holocene Climatic Optimum and during the last glaciation. The D CAS contains paleowater that was recharged during the Pleistocene.
---