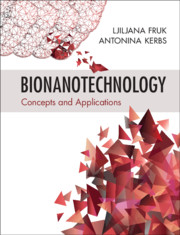 Concepts and Applications

Coming soon

Expected online publication date:

December 2020

Print publication:

04 February 2021

Connecting theory with real-life applications, this is the first ever textbook to equip students with a comprehensive knowledge of all the key concepts in bionanotechnology. By bridging the interdisciplinary gap from which bionanotechnology emerged, it provides a systematic introduction to the subject, accessible to students from a wide variety of backgrounds. Topics range from nanomaterial preparation, properties and biofunctionalisation, and analytical methods used in bionanotechnology, to bioinspired and DNA nanotechnology, and applications in biosensing, medicine and tissue engineering. Throughout the book, features such as 'Back to basics' and 'Research report' boxes enable students to build a strong theoretical knowledge and to link this to practical applications and up-to-date research. With over 200 detailed, full-colour illustrations and more than 100 end-of-chapter problems, this is an essential guide to bionanotechnology for any student studying this exciting, fast-developing and interdisciplinary field.
---
Giorgi Shtenberg

,

Naama Massad-Ivanir

,

Oren Moscovitz

,

Sinem Engin

,

Michal Sharon

,

Ljiljana Fruk

,

Ester Segal
Journal: MRS Online Proceedings Library Archive / Volume 1569 / 2013
Published online by Cambridge University Press:

15 July 2013

, pp. 195-200

Print publication:

2013

Optical biosensor for monitoring proteolytic activity is constructed by DNA-directed immobilization of enzymes onto porous Silicon nanostructures. This sensor configuration allows both protease recycling and easy surface regeneration for subsequent biosensing analysis by means of mild dehybridization conditions. We demonstrate real-time analysis of minute quantities of proteases paving the way for substrate profiling and the identification of cleavage sites. The biosensor is compatible with common proteomic methods and allows for a successful downstream mass spectrometry analysis of the reaction products.
---