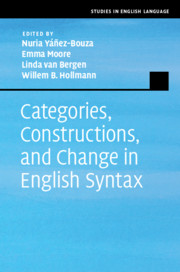 Coming soon

Expected online publication date:

September 2019

Print publication:

30 September 2019

A pioneering collection of new research that explores categories, constructions, and change in the syntax of the English language. The volume, with contributions by world-renowned scholars as well as some emerging scholars in the field, covers a wide variety of approaches to grammatical categories and categorial change, constructions and constructional change, and comparative and typological research. Each of the fourteen chapters, based on the analysis of authentic data, highlights the wealth and breadth of the study of English syntax (including morphosyntax), both theoretically and empirically, from Old English through to the present day. The result is a body of research which will add substantially to the current study of the syntax of the English language, by stimulating further research in the field.
---
Journal: English Language & Linguistics / Volume 16 / Issue 3 / November 2012
Published online by Cambridge University Press:

22 October 2012

, pp. 487-518

Print publication:

November 2012

The occurrence of the Old English negative particle ne 'not' preceding a bare infinitive rather than a finite verb is a largely neglected or overlooked phenomenon. It is attested in constructions with uton 'let's' and in conjoined clauses with omission of the finite verb (Mitchell 1985). This article discusses evidence gathered mainly from the York–Toronto–Helsinki Parsed Corpus of Old English Prose, showing that it is a phenomenon that needs to be taken seriously in descriptions and analyses of Old English. It is argued that the factor shared by the two constructions is the lack of an available finite verb for ne to attach to. It is also found that the use of ne for the purpose of negative concord appears to be more variable with infinitives than it is with finite verbs. Whether attachment of ne to a non-finite verb in the absence of a finite one is restricted to bare infinitives is difficult to determine because of the limited evidence relating to other non-finite forms, but there are some indications that use of ne may have been possible with present participles. Finally, some implications that the ne + infinitive pattern has for the formal analysis of Old English are discussed.
---