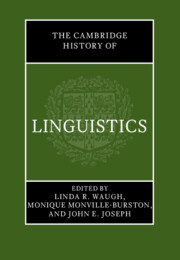 Coming soon

Expected online publication date:

June 2023

Print publication:

30 June 2023

The establishment of language as a focus of study took place over many centuries, and reflection on its nature emerged in relation to very different social and cultural practices. Written by a team of leading scholars, this volume provides an authoritative, chronological account of the history of the study of language from ancient times to the end of the 20th century (i.e., 'recent history', when modern linguistics greatly expanded). Comprised of 29 chapters, it is split into 3 parts, each with an introduction covering the larger context of interest in language, especially the different philosophical, religious, and/or political concerns and socio-cultural practices of the times. At the end of the volume, there is a combined list of all references cited and a comprehensive index of topics, languages, major figures, etc. Comprehensive in its scope, it is an essential reference for researchers, teachers and students alike in linguistics and related disciplines.
---
Journal: Journal of French Language Studies / Volume 8 / Issue 1 / March 1998
Published online by Cambridge University Press:

10 October 2008

, pp. 45-62

Speech act verbs have characteristic uses in journalistic texts. Our analysis shows that there is a metapragmatic shell which specifies how clarifying speech act verbs – ajouter, préciser, souligner, indiquer – are employed in reported speech microstructures, and with respect to which each verb has its own lexico-pragmatic specificity. To illustrate our genre-specific method of lexical analysis, préciser and souligner are examined in detail. These verbs contribute to textual cohesion and to clarification in terms of the relation between the reported speech they introduce and the discourse context in which they are used. They are also subject to the economy of the journalistic text, in particular the balance between scription (conventional writing) and écriture (creative writing). Thus, they evidence convergence of meaning, semantic bleaching and stylistic variation: that is, there is a semi-grammaticalisation of these verbs.
---
Claire Woolley

,

Zoë Philips

,

David K. Whynes

,

Seonaidh C. Cotton

,

Nicola M. Gray

,

Linda Sharp

,

Julian Little

,

Norman R. Waugh

,

On behalf of the TOMBOLA Group
Journal: International Journal of Technology Assessment in Health Care / Volume 23 / Issue 2 / April 2007
Published online by Cambridge University Press:

01 April 2007

, pp. 232-239

Objectives: The aim of this study was to estimate the time and travel costs generated by women when attending for Papanicolaou (Pap) smear tests or colposcopy appointments in the United Kingdom, both absolutely and relative to the health service cost of the national cervical cancer screening programs.

Methods: Data were obtained from questionnaires completed by two samples of women participating in a three-center trial of management of low-grade abnormalities detected by screening (n = 1,106 for Pap smears and n = 1,203 for colposcopy appointments). Women were 20 to 59 years of age and resident in Grampian or Tayside, Scotland, or Nottingham, England. Questionnaire data were supplemented with sociodemographic information previously collected at the time of recruitment to the trial.

Results: The mean total time and travel costs per attendance at a smear test and at a colposcopy appointment were estimated to be £9.2 and £27.4, respectively, averaged across the three trial areas (valued at 2002 prices). Statistically significant intercenter disparities in time and travel costs were identified, particularly with respect to colposcopy appointments. For these, time and travel costs in Nottingham were substantially less than those in Grampian and Tayside (£22.9, £30.2, and £32.1, respectively). Time and travel costs amount to 26 and 33 percent, approximately, over and above the direct health service costs of the English and Scottish screening programs, respectively.

Conclusions: The time and travel costs associated with participation in the UK cervical cancer screening programs are substantial and are not spatially uniform across the country.
---