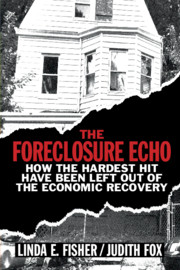 How the Hardest Hit Have Been Left Out of the Economic Recovery

Coming soon

Expected online publication date:

July 2019

Print publication:

18 July 2019

The Foreclosure Echo tells the story of the ordinary people whose quest for the American dream was crushed in the foreclosure crisis when they were threatened with losing their homes. The authors, Linda E. Fisher and Judith Fox - each with decades of experience defending low-to-moderate-income people from foreclosure and predatory lending practices - have employed a range of legal, economic, and social-science research to document these stories, showing not only how people experienced the crisis, but also how lenders and public institutions failed to protect them. The book also describes the ongoing effects of the crisis - including vacant land and abandoned buildings - and how these conditions have exacerbated the economic plight of millions of people who lost their homes and have increased inequality across the country. This book should be read by anyone who wants to understand the fallout of the last financial crisis and learn what we can do now to avoid another one.
---
Journal: Journal of Clinical and Translational Science / Volume 3 / Issue s1 / March 2019
Published online:

26 March 2019

, pp. 97-98

Print publication:

March 2019

Article

OBJECTIVES/SPECIFIC AIMS: Opioid use disorder (OUD) is a national epidemic and identified as a top priority by the practices and communities in rural Colorado. Until recently, few resources existed to address OUD in rural communities. In addition to training primary care and behavioral health practice teams in medication assisted treatment (MAT), Implementing Technology and Medication Assisted Treatment and Team Training and in Rural Colorado (IT MATTTRs Colorado) engaged local community members to alter the community conversation around OUD and treatment. For IT MATTTRs, the High Plains Research Network and the Colorado Research Network engaged community members in a 8-10 month process known as Boot Camp Translations (BCT) to translate medical information and jargon around OUD and MAT into concepts, messages, and materials that are meaningful and actionable to community members. The resulting community interventions are reported here. METHODS/STUDY POPULATION: IT MATTTRs conducted separate BCTs in Eastern Colorado and the south central San Luis Valley. Community partners included non-health professionals with diverse backgrounds, public health and primary care professionals, law enforcement, and others. The BCT process includes a comprehensive education on OUD and MAT and facilitated meetings and calls to develop messages and dissemination strategies. Each BCT lasted around 8-10 months. RESULTS/ANTICIPATED RESULTS: The BCT process elicited unique contextual ideas and constructs for messages, materials, and dissemination strategies. Themes common to both BCTs include the prevalence of OUD and that help is available in the local primary care office. Community-tailored messages are distributed through posters and flyer inserts, drink coasters, newspaper articles, letters to local judges, restaurant placemats, and websites. Examples of the materials and messages will be presented. DISCUSSION/SIGNIFICANCE OF IMPACT: Local community members are eager to help address the OUD crisis. Built on community-based participatory research principles, BCT can be used to translate complex information and guidelines around OUD and MAT into messages and materials that reflect local culture and community needs.
---
Journal: Palliative & Supportive Care / Volume 4 / Issue 4 / December 2006
Published online:

25 October 2006

, pp. 419-424

Print publication:

December 2006

Background: Hemodialysis is a palliative treatment for patients with established renal failure (ERF), and volume overload is a common problem for hemodialysis patients with low urinary output. Volume overload is thought to be mostly attributable to interdialytic fluid intake by the patient and is associated with an increased symptom burden and the development of serious medical complications. Repeated episodes of volume overload may adversely affect staff–patient relationships and the perception of care in this patient population. The aim of this case series study was to evaluate the effect and experience of a psychological intervention on interdialytic weight gain in a small group of patients.

Methods: Five patients were treated. The intervention involved using techniques derived from both cognitive behavior therapy and motivational interviewing. The main outcome measures were interdialytic weight gain and patient perception of the intervention.

Results: Three of the five patients reduced both mean interdialytic weight gain and the frequency with which they gained in excess of 3% of their dry weight during the intervention phase. The intervention was found to be acceptable to patients.

Significance of results: The intervention was effective in helping three of the five patients to reduce both the frequency and the severity of volume overload, and two of these patients maintained this for at least 6 months post intervention. The intervention used actively engaged the patients and appeared to be experienced positively. The methods used to mobilize patient resources and optimize staff–patient relationships as vehicles of change are discussed. Both may have implications for treatment concordance and the perception of care delivered.
---