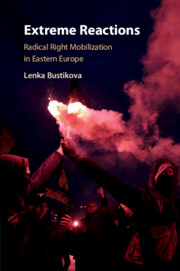 Radical Right Mobilization in Eastern Europe

Coming soon

Expected online publication date:

December 2019

Print publication:

31 December 2019

Focusing on the rising support for the populist right in Eastern Europe, this book examines how anger and resentment towards minorities is being utilized in politics. Bustikova details the process by which the acquisition of political power and demand for rights by ascendant minority groups precipitates a backlash of mobilization from the radical right. However, this book also argues that prejudice against minorities is not a sentiment exclusive to right-wing voters and is not the root cause of increasing support for the radical right. Rather, this study reveals variation in how minorities are accommodated by the government and explains the electoral successes and failures of radical right parties. By examining the capitalization on these feelings of discontent towards politically assertive minorities and with the governmental policies that yield to their demands, Bustikova exposes volatile, zeitgeist-dependent conditions under which once fringe right-wing parties have risen to prominent but precarious positions of power.
---
Journal: Political Analysis , First View
Published online by Cambridge University Press:

21 June 2019

, pp. 1-18

When do parties respond to their political rivals and when do they ignore them? This article presents a new computational framework to detect, analyze and predict partisan responsiveness by showing when parties on opposite poles of the political spectrum react to each other's agendas and thereby contribute to polarization. Once spikes in responsiveness are detected and categorized using latent Dirichlet allocation, we utilize the terms that comprise the topics, together with a gradient descent solver, to assess the classifier's predictive accuracy. Using 10,597 documents from the official websites of radical right and ethnic political parties in Slovakia (2004–2014), the analysis predicts which political issues will elicit partisan reactions, and which will be ignored, with an accuracy of 83% (F-measure) and outperforms both Random Forest and Naive Bayes classifiers. Subject matter experts validate the approach and interpret the results.
---
Journal: World Politics / Volume 69 / Issue 2 / April 2017
Published online by Cambridge University Press:

06 March 2017

, pp. 277-326

Print publication:

April 2017

What explains different levels of clientelism across countries? Why do some politicians deliver clientelistic goods to their electoral constituencies, and why do some voters demand them? This article focuses on the historical origins of trust in states and shows that they have a lasting impact on contemporary patterns of patronage. The shift to programmatic politics reflects a historical transition from personalized trust in politicians to trust in impersonal bureaucracies tasked by political parties to implement policy. Past experience with public bureaucracy informs the expectations of voters and parties regarding the performance of the state and its ability to provide public goods, which in turn shape the degree of clientelistic exchange across societies. To capture state capacity, the authors focus on the critical juncture before the expansion of women's suffrage, and use the ability of public bureaucracies to reduce infant mortality in the interwar period as a proxy for historical state capacity and as an instrument to predict trust. Macrodata from eightyeight electoral democracies and microdata from the most recent wave of the World Value Survey provide supportive evidence for the theory.
---