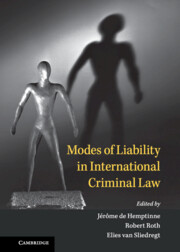 Coming soon

Expected online publication date:

July 2019

Print publication:

11 July 2019

Presently, many of the greatest debates and controversies in international criminal law concern modes of liability for international crimes. The state of the law is unclear, to the detriment of accountability for major crimes and of the uniformity of international criminal law. The present book aims at clarifying the state of the law and provides a thorough analysis of the jurisprudence of international courts and tribunals, as well as of the debates and the questions these debates have left open. Renowned international criminal law scholars analyze, in discrete chapters, the modes of liability one by one; for each mode they identify the main trends in the jurisprudence and the main points of controversy. An introduction addresses the cross-cutting issues, and a conclusion anticipates possible evolutions that we may see in the future. The research on which this book is based was undertaken with the Geneva Academy.
---
Journal: Leiden Journal of International Law / Volume 31 / Issue 3 / September 2018
Published online:

24 May 2018

, pp. 693-718

Print publication:

September 2018

The theories of joint criminal enterprise and joint control over the crime have often been cited as the paramount example of fragmentation in the jurisprudence of the International Criminal Court and the UN Tribunals. While the analyses on these two forms of co-perpetration have generally focused on contrasting the different definitional criteria that they rely on to distinguish between principals and accessories to a group crime, this article shifts the focus to one legal element that, although common for both theories, has actually caused a deeper dissonance in the topical case law of the international courts and tribunals: the 'common plan' requirement. It is argued that the varying interpretations of this element have given rise to three materially distinct constructions of co-perpetration responsibility in international criminal law. Several normative and practical concerns stemming from the adoption of broad definitions for the common plan element, and the related idea of ascribing responsibility for 'excess' crimes of the executed plan, are analyzed to emphasize the need for having a critical discussion on this element of co-perpetration.
---