from Part III - Indigenous Psychology and Intercultural Training

Published online:

18 September 2020

Print publication:

27 August 2020

, pp

564-583

Summary

As a crucial concept for understanding Chinese social behavior, face derives from the complicated structure of Confucianism and has continued to develop as a consequence of modernization. This chapter aims to present a series of culture-inclusive theories from the psychological perspective to illustrate face dynamism in Chinese societies. Specifically, the aims of this chapter are threefold: First, to present culture-inclusive theories of face dynamism in Chinese societies as potential materials for intercultural training related to social interactions with the Chinese. Second, to present a glossary of face-related concepts, each defined and reinterpreted in the context of current culture-inclusive theories, and to illustrate their usage as language games by Chinese people in daily social interactions. Third, the discussion of face extends from the interpersonal level to the international level, in order to highlight its cultural significance in intercultural interactions with the Chinese. We focus on the most significant and unique cultural element during intercultural interactions with the Chinese, namely face, by illustrating various roles it plays in Chinese societies. From traditional to modern usage, from personal to national level, we hope that the discussions will shed light on the why and how of face in Chinese social interactions.
---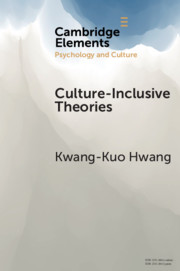 An Epistemological Strategy
Published online:

20 August 2019

Print publication:

05 September 2019

The author proposes an epistemological strategy to resolve controversial issues in the indigenous psychology (IP) movement. These include the nature of IPs, scientific standards, cultural concepts, philosophy of science, mainstream psychology, generalization of findings, and the isolation and independence of IPs. The approach includes a two-step strategy for construction of culture-inclusive theories, based on a Mandala model of self and a Face and Favor model for social interaction, and the use of these models to develop culture-inclusive theories for Confucian morphostasis. The author has successfully used this strategy, and encourages others to use it to construct their own culture-inclusive theories.
---
Published online:

14 May 2010

Print publication:

29 May 2008

, pp

108-142

Summary

This chapter reorganizes Hanfei's theory of leadership from the perspective of social science and explains its implications in contemporary Chinese society. It begins with a brief biography of Hanfei and the origins of his thought. His theory of leadership is then presented as a formal theory and its meanings are explained in terms of modern organizational theories. Based on Hwang's (1995; 2001) analysis of the deep structure of Confucianism, a conceptual framework is proposed to illustrate the dialectical relationship between Hanfei's theory and Confucianism. Finally, operation of the firm and state in Taiwan are used as examples to explain how this conceptual framework may be used to study Chinese organizational behavior.

Introduction

Among the various Chinese indigenous leadership theories, the importance of Legalism is second only to Confucianism. Fa Jia (the Legalist school) emerged during the Warring States Period (403–222 BCE) and its main thoughts were refined against the cultural background of Confucianism, although its contents are in direct opposition to Confucianism in many respects.

During the Han dynasty, Tung Jong-shu (179–104 BCE) proposed integrating the two systems with the idea of "making judicial sentence by the Confucian classic of Spring and Autumn" and "utilizing Legalism as an instrument to consolidate the Confucian social system." (Chu, 1961). Rulers of China began to use Legalist methods to defend their power and position and to control people, but retained Confucian doctrine to educate and discipline people.
---