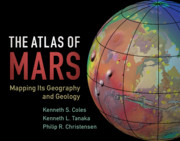 Mapping Its Geography and Geology

Coming soon

Expected online publication date:

August 2019

Print publication:

31 August 2019

Planetary scientist and educator Kenneth S. Coles has teamed up with Kenneth L. Tanaka from the United States Geological Survey's Astrogeology team and Philip R. Christensen, Principal Investigator of the Mars Odyssey orbiter's THEMIS science team to produce this all-purpose reference atlas, The Atlas of Mars. For each of the thirty standard charts are: a full-page color topographic map at 1:10,000,000 scale, a THEMIS base map at the same scale with features labeled, a simplified geologic map of the corresponding area and further section describing prominent features of interest. The Atlas is rounded out with extensive material on Mars' global characteristics, a regional geography and geology glossary, and an indexed gazetteer of up-to-date martian feature names and nomenclature. This is an essential guide for a broad readership of academics, students, amateur astronomers and space enthusiasts, replacing the NASA atlas from the 1970s.
---
By , U.S. Geological Survey, Flagstaff, , Jet Propulsion Laboratory, California Institute of Technology, Pasadena, , Department of Hydrology and Water Resources, University of Arizona, Tucson, , Department of Geological Sciences, University of Minnesota Duluth, , University of Massachusetts, Amherst, , Jet Propulsion Laboratory, California Institute of Technology, Pasadena, , Geomechanics – Rock Fracture Group, Department of Geological Sciences and Engineering, University of Nevada, Reno, , Center for Earth and Planetary Studies, National Air and Space Museum, Smithsonian Institution, Washington, DC

Book: Planetary Tectonics
Published online:

30 March 2010

Print publication:

17 December 2009

, pp

351-396

Summary

Summary

As on Earth, other solid-surfaced planetary bodies in the solar system display landforms produced by tectonic activity, such as faults, folds, and fractures. These features are resolved in spacecraft observations directly or with techniques that extract topographic information from a diverse suite of data types, including radar backscatter and altimetry, visible and near-infrared images, and laser altimetry. Each dataset and technique has its strengths and limitations that govern how to optimally utilize and properly interpret the data and what sizes and aspects of features can be recognized. The ability to identify, discriminate, and map tectonic features also depends on the uniqueness of their form, on the morphologic complexity of the terrain in which the structures occur, and on obscuration of the features by erosion and burial processes. Geologic mapping of tectonic structures is valuable for interpretation of the surface strains and of the geologic histories associated with their formation, leading to possible clues about: (1) the types or sources of stress related to their formation, (2) the mechanical properties of the materials in which they formed, and (3) the evolution of the body's surface and interior where timing relationships can be determined. Formal mapping of tectonic structures has been performed and/or is in progress for Earth's Moon, the planets Mars, Mercury, and Venus, and the satellites of Jupiter (Callisto, Ganymede, Europa, and Io).
---
Book: The Geology of Mars
Published online:

18 September 2009

Print publication:

17 May 2007

, pp

371-399

Summary

Introduction

For more than a quarter of a century, the spectacular grabens of Canyonlands National Park, Utah, have provided planetologists with a fundamental analog for understanding what planetary grabens should look like and – more importantly – what may be implied about the depth variation of mechanical properties and horizontal extensional strain.

The seminal work on Canyonlands grabens was done by George McGill and coworkers in support of their investigations of the origin and kinematic significance of lunar and Martian straight rilles (McGill, 1971; McGill and Stromquist, 1975, 1979; Stromquist, 1976; Wise, 1976). McGill and Stromquist (1979) hoped to invert graben widths, assessed on an aerial or orbital image, for the depth of faulting (i.e., fault intersection depth). By equating this depth with stratigraphic layer thickness and assuming a symmetric graben geometry and plausible values of fault dip angles, grabens provided ready and seemingly reliable probes of the near-surface planetary stratigraphy and strain. Interestingly, the analog modeling of brittle-layer extension over a ductile (quasiplastic) substrate, appropriate to Canyonlands stratigraphy (McGill and Stromquist, 1975, 1979), anticipated the key role of faulting in triggering and mobilizing salt or shale diapirism at depth (Jackson and Vendeville, 1994; Jackson, 1995). Other observations and inferences made in the 1970s, including flexure of rock layers at ramps near graben terminations and incremental growth of fault slip (McGill and Stromquist, 1979), anticipated these fundamentally important ideas by at least a decade (Sibson, 1989; Peacock and Sanderson, 1991; Cowie and Scholz, 1992).
---