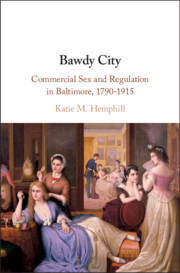 Commercial Sex and Regulation in Baltimore, 1790–1915

Coming soon

Expected online publication date:

January 2020

Print publication:

31 January 2020

A vivid social history of Baltimore's prostitution trade and its evolution throughout the nineteenth century, Bawdy City centers woman in a story of the relationship between sexuality, capitalism, and law. Beginning in the colonial period, prostitution was little more than a subsistence trade. However, by the 1840s, urban growth and changing patterns of household labor ushered in a booming brothel industry. The women who oversaw and labored within these brothels were economic agents surviving and thriving in an urban world hostile to their presence. With the rise of urban leisure industries and policing practices that spelled the end of sex establishments, the industry survived for only a few decades. Yet, even within this brief period, brothels and their residents altered the geographies, economy, and policies of Baltimore in profound ways. Hemphill's critical narrative of gender and labor shows how sexual commerce and debates over its regulation shaped an American city.
---