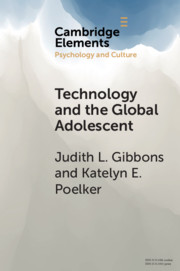 Published online:

24 March 2020

Print publication:

16 April 2020

Around the world, adolescents use technology for education, to further their identity and socio-emotional development, to access health information, engage in civic activities, and for entertainment. For many, technological advances, especially social media, have drastically influenced how they communicate with family, friends, and romantic partners. Challenges of technology use include the digital divide, internet addiction, and exposure to cyberbullying. The diversity of adolescents' cultural context results in heterogeneous bidirectional influences of technology and teenagers with respect to education and close relationships. Researchers, parents, and policy makers must consider the role of culture in the complex interactions of teenagers with technology.
---
from Development

Published online:

30 March 2018

Print publication:

12 April 2018

, pp

239-262
---
Journal: Behavioural and Cognitive Psychotherapy / Volume 43 / Issue 4 / July 2015
Published online by Cambridge University Press:

11 March 2014

, pp. 412-425

Print publication:

July 2015

Background: The proposal of a 4-year plan to integrate treatment of people with long term medical conditions (LTCs) into the IAPT service (Department of Health, 2011) seeks for research to understand the effectiveness of IAPT interventions for this patient group. Aim: The aim of this service development pilot work was to develop an intervention that is effective for people with Type 2 Diabetes Mellitus (T2DM). It was hypothesized that the standard IAPT intervention would not be effective, but that it can be adapted so that it is effective both in terms of mood and self-management of T2DM. Method: Clients (n = 95) who experienced mild to moderate depression and/or anxiety and had a diagnosis of T2DM opted to attend. The intervention was adapted over a series of cohorts from a standard Step 2 intervention. A team of Psychological Wellbeing Practitioners (PWPs), a Clinical Health Psychologist and a General Practitioner worked in collaboration, using outcomes measures and feedback from service users and facilitators. Results: The standard IAPT Step 2 intervention met with challenges when specifically targeting this client group. Using paired t-tests, the modified Step 2 intervention demonstrated significant improvements from pre- to postintervention measures both in terms of psychological (n = 17) and physical (n = 9) outcomes. Conclusion: It is concluded that it may be possible to modify a generic Step 2 IAPT intervention to demonstrate improvements both in terms of psychological wellbeing and self-management of T2DM. The main adaptations were related to more targeted recruitment and linking of diabetes specifically into the CBT model.
---