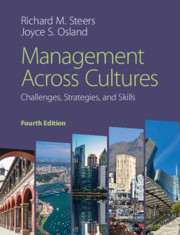 Challenges, Strategies, and Skills
4th edition

Coming soon

Expected online publication date:

October 2019

Print publication:

31 October 2019

In today's competitive global economy, most managers are - or will be - global managers. They may work in their home country, but are influenced by global events and have to manage diverse workforces. As such, they need multicultural competence and global management skills to work successfully across cultures. This new edition pairs a richly illustrated text with management applications, key concepts, discussion questions, web-based cases and skill-building exercises aimed at current and aspiring managers. Each chapter is accompanied by a Manager's Notebook highlighting field strategies and encouraging students to develop multicultural competence that will be highly valued by future employers. Exploring the challenges and opportunities facing global managers, readers can examine cultural, organizational, and managerial environments before developing a range of skills from communication and leadership to negotiation and global team management. Suitable for students taking courses in international management, cross-cultural management or international HRM at advanced undergraduate, Masters and MBA levels.
---
Published online:

15 December 2009

Print publication:

04 June 2009

, pp

245-271

Summary

The extensive cultural variations described in this book make a strong argument for global leaders who possess cultural awareness, intercultural competence, and global knowledge relating to culture. Culture, however, is not the only contextual determinant that forms the Petri dish that creates global leadership (GL). The organizing principle for this chapter is the linkage among various components of the global context, the resulting GL sensemaking and competencies, and their development. Based on this framework, we review the limited empirical literature on global leadership and its development and identify the pathways for future research.

Global leadership has achieved a salient position in the international management literature during the past decade. The need to understand the nature of global leaders has emerged with the increasing internationalization and globalization of firms in which the dependence on vendors, employees, outsourced work, and customers from other countries is now seen as critical. Gunnar Hedlund (1986, p. 18) envisaged the current reality of global business in the mid-1980s:

A radical view concerning globality is that we are witnessing the disappearance of the international dimension of business. For commercial and practical purposes, nations do not exist and the relevant business arena becomes something like a big unified "home market."

Similarly, global leaders deal with employees and stakeholders from a range of cultures and seldom have the luxury of understanding each culture in depth. Therefore, we suggest that they are forced to develop meta-level cultural skills, which we will discuss later, that go beyond those required of most domestic or expatriate leaders.
---