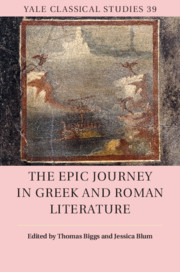 Coming soon

Expected online publication date:

May 2019

Print publication:

23 May 2019

This volume explores journeys across time and space in Greek and Latin literature, taking as its starting point the paradigm of travel offered by the epic genre. The epic journey is central to the dynamics of classical literature, offering a powerful lens through which characters, authors, and readers experience their real and imaginary worlds. The journey informs questions of identity formation, narrative development, historical emplotment, and constructions of heroism - topics that move through and beyond the story itself. The act of moving to and from 'home' - both a fixed point of spatial orientation and a transportable set of cultural values - thus represents a physical journey and an intellectual process. In exploring its many manifestations, the chapters in this collection reconceive the centrality of the epic journey across a wide variety of genres and historical contexts, from Homer to the moon.
---
Non-vacuum Preparation of wse

2

Thin Films

via

the Selenization of Hydrated Tungsten Oxide Prepared using Chemical Solution Methods
Christopher L. Exstrom, Scott A. Darveau, Megan E. Falconer, Jessica R. Blum, Whitney M. Colling, Natale J. Ianno
Journal: MRS Advances / Volume 3 / Issue 56 / 2018
Published online:

21 May 2018

, pp. 3281-3286

Print publication:

2018

It is known that tungsten oxide may be reacted with selenium sources to form WSe2 but literature reports include processing steps that involve high temperatures, reducing atmospheres, and/or oxidative pre-treatments of tungsten oxide. In this work, we report a non-vacuum process for the fabrication of compositionally high quality WSe2 thin films via the selenization of tungsten oxide under milder conditions. Tungsten source materials were various hydrated WO3 and WO2.9 compounds that were prepared using chemical solution techniques. Resulting films were selenized using a two-stage heating profile (250 °C for 15 minutes and 550 °C for 30 minutes) under a static argon atmosphere. Effects of the starting tungsten oxide phase on WSe2 formation after single and double selenization cycles were investigated using Raman spectroscopy and X-ray diffraction (XRD). After two selenization cycles, hydrated WO3 was converted to (002)-oriented WSe2 that exhibits well-resolved peaks for E12g and A1g phonon modes. Only a single selenization cycle was required to convert amorphous WO2.9 to WSe2. All selenizations in this work were achieved in non-reducing atmospheres and at lower temperatures and shorter times than any non-laser-assisted processes reported for WO3-to-WSe2 conversions.
---
Published online:

05 April 2014

Print publication:

31 March 2014

, pp

vii-x
---