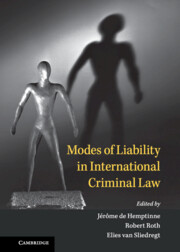 Coming soon

Expected online publication date:

July 2019

Print publication:

11 July 2019

Presently, many of the greatest debates and controversies in international criminal law concern modes of liability for international crimes. The state of the law is unclear, to the detriment of accountability for major crimes and of the uniformity of international criminal law. The present book aims at clarifying the state of the law and provides a thorough analysis of the jurisprudence of international courts and tribunals, as well as of the debates and the questions these debates have left open. Renowned international criminal law scholars analyze, in discrete chapters, the modes of liability one by one; for each mode they identify the main trends in the jurisprudence and the main points of controversy. An introduction addresses the cross-cutting issues, and a conclusion anticipates possible evolutions that we may see in the future. The research on which this book is based was undertaken with the Geneva Academy.
---
Journal: AJIL Unbound / Volume 111 / 2017
Published online:

18 September 2017

, pp. 272-276

Print publication:

2017

Article

In times of war, the first instinct is to relieve the suffering of human beings. Environmental and animal interests are always pushed into the background. However, warfare strongly affects natural resources, including animals, which makes animal issues a matter of great concern. Certain species have been vanishing at a rapid rate because of wars, often with disastrous effects on the food chain and on the ecological balance. Indeed, belligerents rarely take into account the adverse consequences of their military operations on animals. They even take advantage of the chaotic circumstances of war in order to poach protected species and to engage in the trafficking of expensive animal products. While generating billions of dollars each year, such poaching and trafficking allows armed groups to grow and to reinforce their authority over disputed territory. States have also trained, and continue to train, certain animals—principally marine mammals such as bottlenose dolphins and California sea lions—to perform military tasks, like ship and harbor protection, or mine detection and clearance. Millions of horses, mules, donkeys, camels, dogs, and birds are obliged to serve on various fronts (transport, logistics, or communications) and become particularly vulnerable targets.
---