Published online:

05 August 2015

Print publication:

07 August 2015

, pp

160-170
---
Published online:

31 August 2009

Print publication:

25 June 2009

, pp

i-iv
---
Published online:

31 August 2009

Print publication:

25 June 2009

, pp

1-22

Summary

Introduction

Look out the window and assess the weather. If it is hot, change into a lighter shirt. If it is raining, take an umbrella. This is adaptation to changing weather.

Adaptation to changing climate is a different matter. The climate may change either slowly or rapidly, and the changes may be irreversible and impossible to predict with any accuracy. The simple principles of adapting to changing weather begin to break down when the climate changes. In the context of climate change the options for adaptation may involve relocating homes, moving cities, changing the foods we grow and consume, seeking compensation for economic damages, and mourning the loss of our favourite place or iconic species. The difference between adapting to changing weather and adapting to a changing climate lies both in the time-frame and in the significance of the changes required. Moreover, the consequences of not adapting to climate change may be far more serious than not adapting to changing weather.

There are two aspects of climate change that have profound significance for adaptation. First is the growing recognition that the weather is no longer 'natural'. While the weather varies and changes seasonally as part of the natural rhythm of our lives, climate change, as it is presently observed, is now beyond all reasonable doubt driven by human activities. This induces a feeling, for some, that the world is sullied, and nature itself is at an end (McKibben, 1999).
---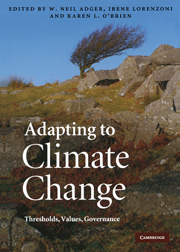 Thresholds, Values, Governance
Published online:

31 August 2009

Print publication:

25 June 2009

Adapting to climate change is a critical problem facing humanity. This involves reconsidering our lifestyles, and is linked to our actions as individuals, societies and governments. This book presents top science and social science research on whether the world can adapt to climate change. Written by experts, both academics and practitioners, it examines the risks to ecosystems, demonstrating how values, culture and the constraining forces of governance act as barriers to action. As a review of science and a holistic assessment of adaptation options, it is essential reading for those concerned with responses to climate change, especially researchers, policymakers, practitioners, and graduate students. Significant features include historical, contemporary, and future insights into adaptation to climate change; coverage of adaptation issues from different perspectives: climate science, hydrology, engineering, ecology, economics, human geography, anthropology and political science; and contributions from leading researchers and practitioners from around the world.
---
Published online:

31 August 2009

Print publication:

25 June 2009

, pp

xiii-xvi

Summary

Almost every day new scientific evidence suggests that the climate is changing due to human action and will continue to change over our lifetimes and those of the next generations. It would be inconceivable that humans, as the most adaptable of species, would not adapt to this challenge. But the state of science about how and whether we adapt and the cost and consequences of such adaptations is nowhere near that of science of atmospheric change. Of course, societies adapt all the time to diverse risks and challenges. So, drawing on theoretical and empirical research, we should be able to discern how adaptation to a changing climate will proceed. Herein lies the impetus for this book.

Until recently, adaptation has been somewhat sidelined, or some would say, actually tabooed, in the climate change discourse. Many argue that investing in adapting to the impacts distracts from the major task of mitigating the causes of anthropogenic climate change by reducing greenhouse gas emissions. Others are convinced that adaptation will automatically happen, once environmental changes become visible. But the time for adaptation action has arrived and the demand for information and rigorous science in this area is increasing exponentially. The funding for adaptation research is growing, and so are the questions that need to be addressed. Many of these questions are directly related to the process of adaptation, and to one overarching question: can we live with climate change?
---
Published online:

31 August 2009

Print publication:

25 June 2009

, pp

viii-xii
---
Published online:

31 August 2009

Print publication:

25 June 2009

, pp

181-196

Summary

Introduction

The health impacts of global climate change have long been a focus of discussion for researchers and policy-makers. In recent years the number of studies and reports on the theme has risen significantly, as reflected in the extended list of citations in the human health chapter of the latest Intergovernmental Panel on Climate Change (IPCC) assessment report (Confalonieri et al., 2007). Most of the analysis to date has concentrated on the epidemiological dimensions of disease and climate, investigating how climatic trends may alter the distribution, prevalence and health burden of diseases, and assessing how changes in extreme weather events and associated hazards may impact on health (for recent overviews see McMichael et al., 2003; Epstein and Mills, 2005; Watson et al., 2005). Increasingly, however, this work has begun to broaden and stimulate debate in the public health arena, with investigation extending to responses by individuals, communities and health system institutions. Within this mounting body of work, there has been an increasing movement towards a public health agenda for adaptation (for example Grambsch and Menne, 2003; Füssel and Klein, 2004; Ebi et al., 2005; Menne and Ebi, 2006). Yet, despite this progress, there remain surprisingly few empirical studies that concentrate on the intersection between climatic hazards, health, vulnerability and behaviour (Matthies et al., 2003; Few, 2007).

This chapter discusses a novel interdisciplinary approach to understanding the vulnerability of individuals to the effects of climate change and variability.
---
Published online:

31 August 2009

Print publication:

25 June 2009

, pp

501-514
---
Published online:

31 August 2009

Print publication:

25 June 2009

, pp

v-vii
---
Journal: Environmental Conservation / Volume 34 / Issue 3 / September 2007
Published online by Cambridge University Press:

01 September 2007

, p. 269

Print publication:

September 2007
---