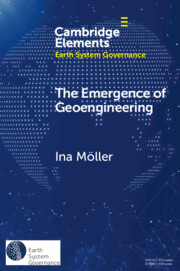 How Knowledge Networks Form Governance Objects
Published online:

14 January 2023

Print publication:

09 February 2023

For many years, suggestions to 'geoengineer' the climate occupied a marginal role in climate change science and politics. Today, visions of massive carbon drawdown and sunlight reflection have become reasonable additions to conventional mitigation and adaptation. Why did researchers start engaging with ideas that were, for a long time, considered highly controversial? And how did some of these ideas come to be perceived worthy of research funding and in need of international governance? This Element provides an analysis of the recent history and evolution of geoengineering as a governance object. It explains how geoengineering evolved from a thought shared by a small network into a governance object that is likely to shape the future of climate politics. In the process, it generates a theory on the earliest phase of the policy cycle and sheds light on the question why we govern the things we govern in the first place.
---
from Part One - Introduction and Overview
Published online:

04 January 2020

Print publication:

02 January 2020

, pp

3-24

Summary

− Agency is one of five core analytical problems in the Earth System Governance (ESG) Project's research framework, which offers a unique approach to the study of environmental governance. − Agency in Earth System Governance draws lessons from ESG–Agency research through a systematic review of 322 peer-reviewed journal articles published between 2008 and 2016 and contained in the ESG–Agency Harvesting Database.− ESG–Agency research draws on diverse disciplinary perspectives with distinct clusters of scholars rooted in the fields of global environmental politics, policy studies, and socio-ecological systems. − Collectively, the chapters in Agency in Earth System Governance provide an accessible synthesis of some of the field's major questions and debates and a state-of-the-art understanding of how diverse actors engage with and exercise authority in environmental governance.
---
from Part Two - Agency and the Dynamics of Earth System Governance
Published online:

04 January 2020

Print publication:

02 January 2020

, pp

120-130

Summary

− Norms are conceptualized in different ways by ESG–Agency scholars, including as regulatory instruments, as part of the surrounding structure, as the outcome of a legitimation procedure, or as an expectation of the researcher. − Actors who engage with norms exercise agency by shaping, strategically interpreting, and using, as well as managing other actors' interpretations of norms.− Future research could benefit from more explicitly theorizing the interaction of agency and norms by integrating existing empirical insights and increasing the geographic diversity of scholarship.
---