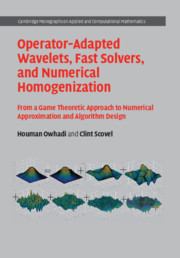 From a Game Theoretic Approach to Numerical Approximation and Algorithm Design

Coming soon

Expected online publication date:

September 2019

Print publication:

30 September 2019

Although numerical approximation and statistical inference are traditionally covered as entirely separate subjects, they are intimately connected through the common purpose of making estimations with partial information. This book explores these connections from a game and decision theoretic perspective, showing how they constitute a pathway to developing simple and general methods for solving fundamental problems in both areas. It illustrates these interplays by addressing problems related to numerical homogenization, operator adapted wavelets, fast solvers, and Gaussian processes. This perspective reveals much of their essential anatomy and greatly facilitates advances in these areas, thereby appearing to establish a general principle for guiding the process of scientific discovery. This book is designed for graduate students, researchers, and engineers in mathematics, applied mathematics, and computer science, and particularly researchers interested in drawing on and developing this interface between approximation, inference, and learning.
---
Journal: ESAIM: Mathematical Modelling and Numerical Analysis / Volume 48 / Issue 2 / March 2014
Published online:

11 March 2014

, pp. 517-552

Print publication:

March 2014

We introduce a new variational method for the numerical homogenization of divergence form elliptic, parabolic and hyperbolic equations with arbitrary rough (L∞) coefficients. Our method does not rely on concepts of ergodicity or scale-separation but on compactness properties of the solution space and a new variational approach to homogenization. The approximation space is generated by an interpolation basis (over scattered points forming a mesh of resolution H) minimizing the L2 norm of the source terms; its (pre-)computation involves minimizing 𝒪(H−d) quadratic (cell) problems on (super-)localized sub-domains of size 𝒪(H ln(1/H)). The resulting localized linear systems remain sparse and banded. The resulting interpolation basis functions are biharmonic for d ≤ 3, and polyharmonic for d ≥ 4, for the operator −div(a∇·) and can be seen as a generalization of polyharmonic splines to differential operators with arbitrary rough coefficients. The accuracy of the method (𝒪(H) in energy norm and independent from aspect ratios of the mesh formed by the scattered points) is established via the introduction of a new class of higher-order Poincaré inequalities. The method bypasses (pre-)computations on the full domain and naturally generalizes to time dependent problems, it also provides a natural solution to the inverse problem of recovering the solution of a divergence form elliptic equation from a finite number of point measurements.
---
---