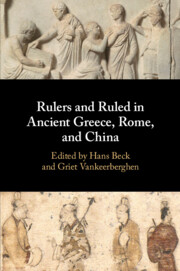 Coming soon

Expected online publication date:

December 2020

Print publication:

31 December 2020

Situated on opposite flanks of Eurasia, ancient Mediterranean and Han-Chinese societies had a hazy understanding of each other's existence. But they had no grounded knowledge about one another, nor was there any form of direct interaction. In other words, their historical trajectories were independent. In recent years, however, many similarities between both cultures have been detected, which has energized the field of comparative history. The present volume adds to the debate a creative method of juxtaposing historical societies. Each contribution covers both ancient China and the Mediterranean in an accessible manner. Embarking from the observation that Greek, Roman, and Han-Chinese societies were governed by comparable features, the contributors to this volume explain the dynamic interplay between political rulers and the ruled masses in their culture specific manifestation as demos (Greece), populus (Rome) and min (China).
---
Journal: Early China / Volume 30 / 2005
Published online by Cambridge University Press:

26 March 2015

, pp. 47-89

Print publication:

2005

Texts from the Zhou and Han periods regularly use the term quan "to weigh" when describing or prescribing human action. This essay seeks to determine precisely which concrete acts of weighing underlie the metaphoric application of the term to human action. A survey of the available textual and archaeological evidence shows that even before the Eastern Han, when steelyards became the most common weighing device, the act of weighing might have been executed and conceptualized in multiple ways. A similar conclusion is drawn from a survey of pictorial and literary references to metaphoric weighing in non-Chinese traditions. More precisely, I suggest three distinct possibilities: matching the object to be weighed with a known standard, determining which of two objects weighs heaviest, and, lastly, seeking the point at which the balance beam will gain or recover balance.

Early Chinese texts provide examples of all three (quan A, B, and C). Quan B became prominent especially during the 3rd century B.C.E., when persuaders discussed how every choice had negative as well as positive consequences. Quan A and C are attested in texts usually dated to the 4th century B.C.E. or before. In this essay I argue that it is quan C that became the dominant metaphor in moral-political discourse, and that it had two competing interpretations: it could refer either to the multiple ways in which a sage adapts his actions to the circumstances, or to a temporary lifting of moral standards during an emergency. Whereas scholars in the Han and Qing dynasties generally accepted that moral rules were not absolute, Song scholars were scandalized by the notion that deviations from the rule were part and parcel of moral action.
---
Journal: The Journal of Asian Studies / Volume 62 / Issue 3 / August 2003
Published online by Cambridge University Press:

26 March 2010

, pp. 938-940

Print publication:

August 2003
---