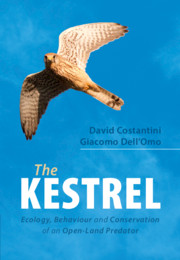 Ecology, Behaviour and Conservation of an Open-Land Predator

Coming soon

Expected online publication date:

August 2020

Print publication:

27 August 2020

Widespread across open lands and cities of Europe, Africa, and Asia, the common kestrel (Falco tinnunculus) is one of the most abundant and studied birds of prey. This book brings together and synthesises the results of research on kestrels for professional ornithologists and scientists that seek to consolidate a vast body of literature. It is also a reference for those readers who may not have the depth of scientific knowledge to navigate new fields of scientific enquiry. It examines many aspects of the species' biology, from the reproductive strategies to the behavioural and demographic adaptations to changes of environmental conditions. It also discusses the roles of physiology and immunology in mediating the adaptability of kestrels to the ongoing environmental changes with a particular focus on contaminants. This volume presents new and exciting avenues of research on the ecology and behaviour of the common kestrel.
---
Published online by Cambridge University Press:

24 April 2009

, pp. 74-80

Print publication:

January 1996

In a 4-week field study of the primates of Guinea-Bissau, a 10-day survey was carried out along the Cacine River and in the Cantanhez Forest to collect information about the presence of primates and other mammals. No biological information was available for these areas. The survey revealed the presence of at least seven primate species, four of which are included in the current IUCN Red List of Threatened Animals. Of particular interest was the West African chimpanzee Pan troglodytes verus. This was considered to be possibly extinct in Guinea-Bissau, but was found to be locally common. All primate species are particularly vulnerable because of uncontrolled exploitation of the forest, while hunting is responsible for the decline of game species in the area. Other rare species occur in the area and make the Cacine Basin and Cantanhez Forest a priority area for wildlife conservation at national and regional levels.
---