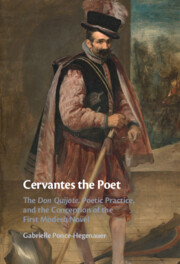 The Don Quijote, Poetic Practice, and the Conception of the First Modern Novel

Coming soon

Expected online publication date:

April 2023

Print publication:

30 April 2023

Cervantes the Poet travels from the court of Isabel de Valois to Rome, Naples, Palermo, Algiers, and Madrid's barrio de las letras. Recovering Cervantes' nearly forty-year literary career before the publication of Don Quijote, Gabrielle Ponce-Hegenauer demonstrates the cultural, literary, and theoretical significance of Cervantes' status as a late-sixteenth-century itinerant poet. This study recovers the generative literary milieus and cultural practices of Spain's most famous novelist in order to posit a new theory of the modern novel as an organic transformation of lyric practices native to the late-sixteenth century and Cervantes' own literary outlook.
---