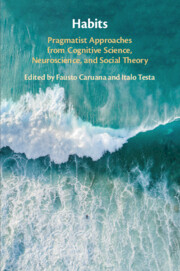 Pragmatist Approaches from Cognitive Science, Neuroscience, and Social Theory

Coming soon

Expected online publication date:

November 2020

Print publication:

30 November 2020

This book evaluates the potential of the pragmatist notion of habit possesses to influence current debates at the crossroads between philosophy, cognitive sciences, neurosciences, and social theory. It deals with the different aspects of the pragmatic turn involved in 4E cognitive science and traces back the roots of such a pragmatic turn to both classical and contemporary pragmatism. Written by renowned philosophers, cognitive scientists, neuroscientists, and social theorists, this volume fills the need for an interdisciplinary account of the role of 'habit'. Researchers interested in the philosophy of mind, cognitive science, neuroscience, psychology, social theory, and social ontology will need this book to fully understand the pragmatist turn in current research on mind, action and society.
---
Journal: Behavioral and Brain Sciences / Volume 35 / Issue 3 / June 2012
Published online by Cambridge University Press:

23 May 2012

, pp. 145-146

Print publication:

June 2012

We challenge the classic experience/expression dichotomous account of emotions, according to which experiencing and expressing an emotion are two independent processes. By endorsing Dewey's and Mead's accounts of emotions, and capitalizing upon recent empirical findings, we propose that expression is part of the emotional experience. This proposal partly challenges the purely constructivist approach endorsed by the authors of the target article.
---