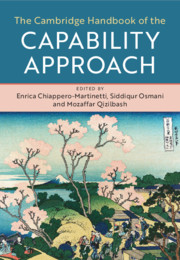 Coming soon

Expected online publication date:

October 2020

Print publication:

31 October 2020

This landmark handbook collects in a single volume the current state of cutting-edge research on the capability approach. It includes a comprehensive introduction to the approach as well as new research from leading scholars in this increasingly influential multi-disciplinary field, including the pioneers of capability research, Martha C. Nussbaum and Amartya Sen. Incorporating both approachable introductory chapters and more in-depth analysis relating to the central philosophical, conceptual and theoretical issues of capability research, this handbook also includes analytical and measurement tools, as well as policy approaches which have emerged in the recent literature. The handbook will be an invaluable resource for students approaching the capability approach for the first time as well as for researchers engaged in advanced research in a wide range of disciplines, including development studies, economics, gender studies, political science and political philosophy.
---
Book: The Capability Approach
Published online:

22 September 2009

Print publication:

24 April 2008

, pp

268-309

Summary

So far as laws of mathematics refer to reality, they are not certain. And so far as they are certain, they do not refer to reality.

(Albert Einstein 1922)

All traditional logic habitually assumes that precise symbols are being employed. It is therefore not applicable to this terrestrial life but only to an imagined celestial existence [… .] logic takes us nearer to heaven than most other studies.

(Russell 1923, pp. 88–9)

All economists know the economy is complex – very complex. That is one of the reasons why society needs economists – to try to make that complexity somewhat simpler and more understandable.

(Colander 2000, p. 1)

Introduction

Concepts of poverty and well-being, like many – probably most – issues and phenomena relating to the human sciences are intrinsically complex and vague, though no more so than crucial economic concepts such as utility, rationality, or recession. This is largely due to the fact that they involve a plurality of interrelated variables, dimensions, and spaces with no clear-cut boundaries between them. While both common sense and some of the social sciences (sociology and psychology in particular) plainly acknowledge the intrinsically complex and vague nature of poverty and well-being, the same cannot be said for economics. Only infrequently mentioned, rarely acknowledged at the foundational level, almost always feared and avoided from an empirical point of view, complexity and vagueness are often perceived in economic analysis as elements of weakness within a theoretical framework, and potential obstacles to its operationalization.
---