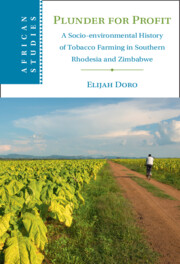 A Socio-Environmental History of Tobacco Farming in Southern Rhodesia and Zimbabwe

Coming soon

Expected online publication date:

April 2023

Print publication:

30 April 2023
---
Journal: The Journal of African History / Volume 63 / Issue 1 / March 2022
Published online by Cambridge University Press:

06 June 2022

, pp. 55-74

Print publication:

March 2022

Article

You have access

Open access

This paper examines African peasant tobacco production in Southern Rhodesia from 1900 to 1980, from the cusp of colonialism to its end. It analyses shifting state policy towards African tobacco producers, the concomitant impact on peasant economies, accumulation patterns and the rural physical landscape and peasant responses. It focuses on the changing agricultural commodity value chains, cash crop asymmetries, and global market forces to explain colonial responses to peasant production and peasant agency. We argue that the symbolic value of each agricultural commodity, in entrenching the hierarchy of power relations and the institutionalisation of white control, mediated colonial responses to peasant production and concomitantly 'peasant agency'. We use this case study to highlight the structural constraints on 'agency' and to explore how cash crop asymmetries helped structure agrarian encounters and power relations in colonial Africa. The paper uses archival sources from the National Archives of Zimbabwe, newspapers, and journals from the Tobacco Research Board (TRB).
---