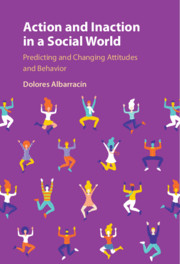 Predicting and Changing Attitudes and Behavior

Coming soon

Expected online publication date:

January 2021

Print publication:

31 January 2021

This book explains how actions and inactions arise and change in social contexts, including social media and face-to-face communication. Its multidisciplinary perspective covers research from psychology, communication, public health, business studies, and environmental sciences. The reader can use this cutting-edge approach to design and interpret effects of behavioral change interventions as well as replicate the materials and methods implemented to study them. The author provides an organized set of principles that take the reader from the formation of attitudes and goals, to the structure of action and inaction. It also reflects on how cognitive processes explain excesses of action while inaction persists elsewhere. This practical guide summarises the best practices persuasion and behavioral interventions to promote changes in health, consumer, and social behaviors.
---